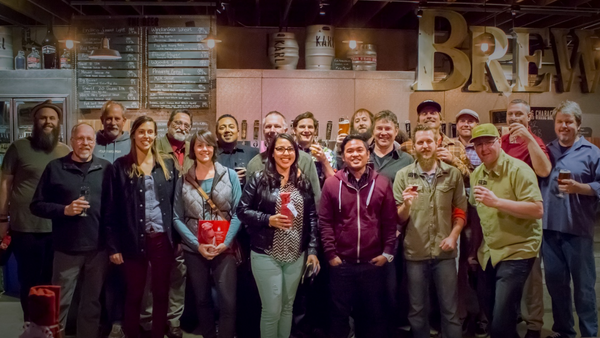 Grab a slice of birthday cake and help us celebrate the 10th birthday of our Business of Craft Beer program!
Launched in the fall of 2013, when San Diego's reputation as a craft beer industry hub was really taking off, the program provides hands-on training for those looking to enter or who are already working in the brewing industry on the business side.
Jake Nunes, a veteran of San Diego's food and beverage industry with more than 20 years of experience with a focus on management and bar leadership, is one of the original instructors in the program.
We asked Jake to reflect on the first ten years of the program that has now become so popular with Global Campus students.
What memories do you have of the creation of the craft beer program? 
"I remember as a young bartender, attending class in the SDSU Global Campus Business of Wine Certificate Program. I was looking to expand my knowledge in my career as a pourer of alcoholic beverages. I remember asking my instructor if she knew of any Beer Education available and she hadn't heard of any. Little did I know, I would play a role in getting the program started at SDSU in a few years. 
Back in early 2013, I was the Bar Manager for Stone Brewing World Bistro & Gardens in Escondido. I passed the Certified Cicerone level 2 exam in 2011 and I was loving my position with the brewery. Someone from SDSU reached out to me and asked if I would be interested in joining the Advisory Board of local beer industry professionals to introduce a beer education certificate program to the SDSU Global Campus (then called the College of Extended Studies). I was honored and jumped at the opportunity!
About a dozen of San Diego's greatest beer people were in attendance at the first meeting. I remember being so stoked to be included in such an elite group! A year later, I was offered the opportunity to instruct the Beer Styles II course and I have been teaching that class ever since! 
Some of the members have changed through the years, but the mission has remained the same: to help the beer-drinking public educate themselves and flourish in the exciting beer industry!"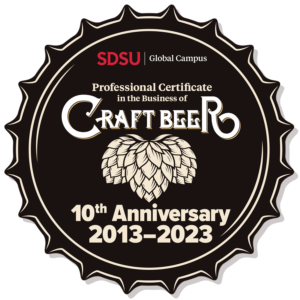 What is your proudest accomplishment during the 10 years of craft beer programming?
"I am always blown away by the ratings and comments given by the students in the post-course questionnaire. Everyone really values the experience and education offered in the course!
Whenever I bump into students out and about, they always tell me how great the program is and how it has made a huge impact on their lives! Many of my former students have moved on to do such great things in the beer community. Managing local taprooms, starting their own beer businesses, winning awards for their beers at the national level … I'm so proud of all of them!"