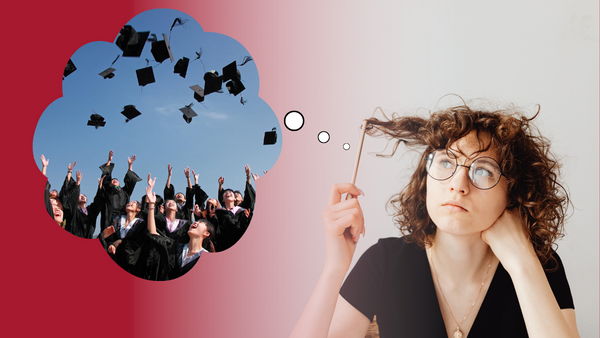 If you are considering graduate school, you may wonder if earning your master's degree can help increase your salary.
While the answer varies depending on your field of study, location, experience, and other factors, in general, the U.S. Bureau of Labor Statistics finds that completing higher levels of education, such as earning a master's degree, typically results in higher annual earnings from your profession.
"Each level of education you complete may help you develop more skills, give you access to higher paying occupations, and signal that you're able to follow through on important tasks, such as planning ahead and meeting deadlines, that employers value," the BLS said.
A master's degree is a post-graduate degree that generally is earned after the completion of a bachelor's degree. It typically takes two years to complete, so it's a solid investment in terms of both time and money.
According to Indeed, "the earnings increase from the bachelor's level to the master's level is approximately 20%. Specifically, the median income for master's degree holders is $77,844 per year, and the unemployment rate is 2%. When compared to those without a high school diploma, individuals at the master's level earn greater than 100% more."
Public Health, Business Administration Among Most Valuable Master's Degrees
A 2021 study by CNBC found that a master's degree can boost a person's salary by up to 87%. However, the range of income you can expect to get from earning a master's varies.
While a bachelor's degree in business administration garners an average starting salary of $54,392, a master's in business administration starts with an average salary of $82,373 – a 51% increase, CNBC found.
A master's in public health starts with an average salary of $60,024, compared to $44,017 on average with a bachelor's degree in the same subject, a 36% increase, according to the CNBC report.
Jonathan Holt, an SDSU Global Campus Academic Program Director who oversees several master's degree programs, says earning a post-graduate degree can benefit students in many ways.
"A master's degree – or any post-baccalaureate degree – can have a number of benefits," Holt says. "For many looking to advance in a particular field, an advanced degree can show employers that you are highly trained and qualified, leading to new opportunities and development. For those looking to change fields, it can connect you with professionals and scholars who can prepare you for a new step."
Also, the hard work and dedication it takes to earn a master's degree can benefit degree holders, regardless of the field of study the degree is in, Holt says
"Even for those who have a passion for something that isn't necessarily their 'field,' the skills necessary to earn an advanced degree – focus, collaboration, careful study, and the ability to bring together research and practice – are invaluable tools that can be applied in almost any professional setting," Holt said.
Factor in the Cost of Getting Your Master's
When looking at how much more you might earn from getting your master's, be sure to factor in the costs of getting the degree. 
According to EducationData.org, the average cost of a master's degree is $66,340. A master's in Education typically costs $55,000, while a master's in arts will run about $73,000 and a graduate degree in science will run about $62,000. 
Earning a master's degree requires a substantial investment of time, money, and effort, but it generally pays off with higher salaries and more opportunities to advance in your career. While post-graduate degrees aren't for everyone, for those who choose to pursue them, it usually turns out to be a sound investment.