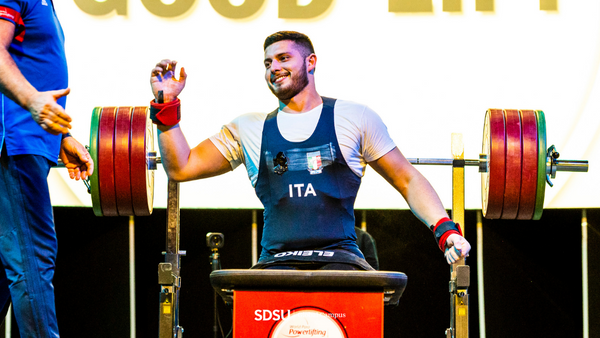 When SDSU Global Campus student Donato Telesca was growing up in Southern Italy, just outside Naples, he idolized the superheroes he saw in movies coming from across the ocean in the United States.
"My heroes were the Hulk and the Marvel superheroes, they gave me the desire to be the strongest I could be," Telesca said.
After a commercial accident cost him both legs at age three, Telesca eventually turned to a sport that allowed him to realize his superhero dreams – as a Paralympics Powerlifter.
Before arriving at SDSU this fall to study management with a focus on entrepreneurship and innovation as part of the Semester at SDSU program, Telesca was studying at LUISS Guido Carli, a university in Rome.
When he decided to study abroad for his specialization studies, he wanted to go where he could feed his passion for innovation and decided that studying in California (home to Apple, Google, and so many other innovative companies) was an easy choice.
"I had choices, but when they offered me to choose, my preference was California," Telesca said. "I said it was California or nothing. California is one of the best regions in the world for innovation."
Telesca is on campus until December to study for his specialization, which is the equivalent of a master's degree in his home country. In 2023, he will return to Rome to finish both his graduate studies and his training with an eye on qualifying for the 2024 Paralympics in Paris.
Miffy Yuan, Director of Semester at SDSU Programs for SDSU Global Campus, said she has been impressed with how driven and persistent Donato is in both his studies and his athletic goals.
"We can see on social media how he constantly challenged himself in various sporting competitions, but what we may not see is a dedicated student pursuing his passion in the subject of business," Yuan said. "Despite his accomplishments in sports, he is a humble individual that knows what he wants and he is doing his best to achieve them."
Dan Scanlan, an adjunct faculty member from the Department of Management at the Fowler College of Business who has Telesca in his MGT 405 Strategic Management class, said he too has been amazed by his student's level of engagement and his positive attitude in class. 
"He also has a good sense of humor," Scanlan said.
Telesca said one of the things he's noticed and appreciated about the SDSU community is how much the students love to work out. In his regular workouts at the ARC, Telesca said he notices the people working out are younger than he typically sees back home.
"In Italy, it's not like this," he said. "It's mostly older people working out."
Making the Paralympics Team
Years after his childhood accident, at 10 years old, Telesca started going to the gym and found that he really enjoyed working out.
At 13, he discovered that he had a talent for weightlifting and even started challenging older guys at the gym to see who could lift more.
"They saw that I was stronger than them and that I had a real talent," Telesca said
Later, around age 17, he considered competing as a powerlifter and got in touch with those in charge of the Italian Paralympics team, who soon signed him up to begin training and competing for their national paralympic powerlifting team.
Soon, Telesca was racking up more than just the weights he was lifting, but also some hefty medals and trophies. He added his first medal, an Italian Cup, in 2016, then a silver medal in 2017 along with a world championship qualification.
All that hard work led to an appearance in the Tokyo Paralympics, which were scheduled for 2020 but were delayed until 2021 due to the COVID-19 pandemic. He placed sixth in Tokyo, but despite missing out on a medal, the event proved to be an invaluable experience in how to live life.
"I was the youngest person in the competition and it was an amazing experience to meet all the athletes from around the world," Telesca said. "They don't quit, they won't quit, and it was amazing to see and it changed my perspective on life. Now, I can't quit."
Telesca's record in the benchpress of the Para Powerlifting event is 205 kilos (450 pounds), a mark he feels positions him well for a spot on the Italian Paralympics team at the 2024 Paris games.
In order to make the team, he must finish in the top eight Italians in his sport, and he currently holds position number two. He won't know for sure if he made the team until early 2024, but Telesca cautions those who might bet against him.
"I'm 98% sure that I will be in Paris," he said of his future plans. "My goal is not just to go back, it's to become the new Paralympic gold medal champion."