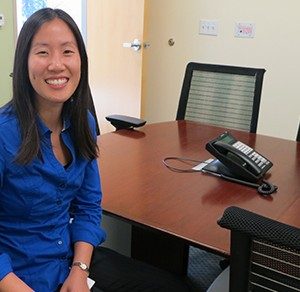 Stephanie Huynh grew up in the Bay Area near San Francisco – she moved to San Diego to attend the University of California, San Diego, where she earned her bachelor's in management science. She worked at Golden Spoon Frozen Yogurt part time during college and after graduating, Huynh was asked if she was interested in becoming a manager for the chain. "For the next 4.5 years I managed a five-store franchise with over 50 employees. I really enjoyed what I was doing especially the employee relations, and training and development side. Unfortunately, the yogurt business slowed and I was laid off," she says.
During that time, Huynh began to think what she wanted to do next – there were many human resources (HR) responsibilities in her management role and she enjoyed them, so she started looking for a human resources job. Huynh adds, "Finding a job was difficult even though I was familiar and had experience in HR functions. This led me to look into HR certificate programs to help me stand out among the many applicants."
Huynh enrolled in SDSU's Introduction to Human Resources class in 2012 – shortly before the program began, she was hired as a human resources assistant with Pharmatek Laboratories. She currently works as a human resources coordinator for the same company.
Currently in the last class, the Human Resources Capstone, Huynh finds the program to be very useful in her job. "It has broadened my knowledge and has made me more comfortable and confident in my position. I like that the instructors bring their experiences, which helps make the learning more relevant and applicable. They also encourage getting to know your classmates as they become a great network and resource to rely on outside of the classroom. The instructors are accessible and, as former students, we are still able to connect with them and ask for advice in the future. Human resources is a field where learning, experience, and exposure really aid in the advancement of one's career, so it's beneficial that this program exposes us to HR professionals," Huynh says.
Human resources is a growing profession that brings strategic value to organizations. The SDSU Human Resources Certificate program teaches students how to bring that strategic value to their companies. Huynh says, "You learn so much – total rewards strategies, how to bring in and retain good employees, and a lot of just what good Human Resources departments should be doing and how you can help with that. You also acquire life skills such as how to be a good presenter."