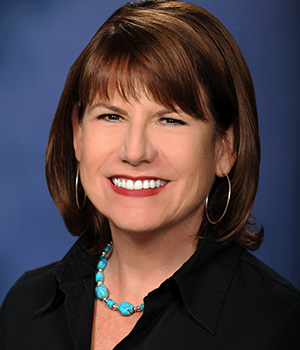 As director of the Mission Federal ArtWalk in Little Italy held in April, Sandi Cottrell oversees San Diego's largest and longest-running fine art festival. Now in its 33rd year, the event attracts more than 100,000 attendees annually.
With her impressive background, it's appropriate that Cottrell will be teaching the "Festivals and Public Events" course. It's part of the Professional Certificate in Meeting and Event Planning program and will run this semester through SDSU's College of Extended Studies.
"I have an art background and have always found events to be an artistic outlet; only instead of a canvas and paint, we are using event elements such as lighting, décor, and entertainment as our palette," Cottrell said. "After all these years, I am still challenged and rewarded by this process."
Here's what she has to say about her career and teaching for the first time through Extended Studies:
What will be some of the highlights of your class, "Festivals and Public Events"?
We will explore all facets of festivals, including permitting, marketing, and working with the community. We'll review the city permitting process. There will be a panel of festival producers who will enlighten us on their events. There will be an interactive portion as well, allowing students to create their own festival.
How excited are you about teaching this class?
Very excited. I love the energy of students who are anxious to learn about this fascinating field and hope to make the class both informative and fun.
Can you share any anecdotes you will share in class?
Sometimes the "war stories" about things that went wrong, and how they were resolved, provide some of the most memorable examples for students. I have a plethora of these stories that I could share. For example, we could talk about the time a water main broke and there was a massive flood during ArtWalk.
What will students learn in your class?
They will leave with solid tools for planning large public events.
What activities are planned?
Activities include interaction with panelists and in small teams, along with conceptualizing festivals or large public events.
Who should take your class? 
Anyone interested in working in special events would benefit from knowing the kind of planning/risk management/detail that goes into a huge public festival.
What kind of personality do you need to be in the meeting and event planning industry?
First, outstanding communications skills. Everything a planner does revolves around communicating a vision and a process to vendors, participants, and the public. You need to be the type of person that doesn't need a roadmap for your work … resourcefulness and ability to find solutions to challenges are key. And you need to be comfortable with managing many pressing priorities at the same time.
What advice do you have for individuals seeking to enter the meeting and event planning profession?
It's a very broad field. Explore the different niches such as trade shows, destination management, festivals, and incentive travel. Attend the event planning association meetings and explore LinkedIn groups, to learn as much as you can about the different facets. Participate in an internship (or more than one internship in different specialty areas) so you have some real-life experience.
Concerning your career, tell us a little about Mission Federal ArtWalk.
The event features artists from around the world who come to San Diego to show and sell their paintings, sculpture, photography, and more. The festival is free and it encompasses over 15 blocks of Little Italy. In addition to artists showing their work, there are several music and dance performance venues as well as KidsWalk, where local art education groups provide hands-on activities for families. Our summer festival, ArtWalk @ Liberty Station, is a smaller version of the April event, held in a park venue in Liberty Station and celebrating its 12th year in 2017.
What does your job entail?
As director of the festival, along with my partner, we oversee a full-time team of five, and several part-time and contract team members who specialize in particular areas of the event. We work closely with the communities where our events take place, as well as police, fire, health departments, and the many vendors who are required to produce these large festivals.
I oversee the marketing and publicity program, working with all of San Diego's media outlets including broadcast, print, and online. Everyone on our team wears many hats, as the tasks involved in planning and production are quite varied, from creating physical event layouts, to communicating with artists, sponsors, attendees, and volunteers. The April festival, for example, deploys approximately 300 volunteers.
What inspired you to get into the meeting and event planning industry?
I discovered while still in college that I enjoyed the process of creating events. At the time (1970s) the field of event production was not well-known and there were no resources for learning event planning skills; we learned as we worked. I went to work for San Diego's first destination management company when I was 19 years old, and stayed in destination management until the late '90s. From 1984 to 1999, I was an owner at PRA Destination Management (now called Allied PRA).
Is there anything your students will be surprised to learn about you?
The way I unwind after a hectic day is by watching "Real Housewives!"