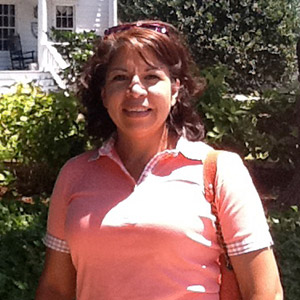 Being married to a Marine for 24 years isn't exactly an easy life – career military men tend to move a lot and there is always a chance that you won't see your husband for months. However, growing up in Texas made Jackie Diaz strong and resilient. She is happily married and endured her husband's 20-year career with the U.S. Marine Corps.
During his career, Diaz did many things to support her husband and to keep herself busy and happy. She raised four children and also took university courses. "I enrolled in the Contract Management certificate program to increase my skill set and hopefully have the opportunity to break into the procurement-purchasing field. I have strong clerical, customer, and personal service skills, and great knowledge of mathematics, administration, and management, so I thought I would be a good fit in contract administration.
I was happy that SDSU and the U.S. government gave me the opportunity," says Diaz. Going back to school isn't always a pleasant experience; Diaz says that taking classes through the Department of Defense's Military Spouse Career Advancement Account (MyCAA) and SDSU was an "easy process." And, what she learned through taking classes was "invaluable." And, going back to school is sometimes easier than deciding which school to attend. After looking at schools in the San Diego area, Diaz chose SDSU. "It just made sense to go to SDSU. Cost and location were a definite plus and the companies I wanted to work for sent their employees to SDSU for certificates," she adds.
"The classes helped me gain a basic understanding of contract management. I learned a lot. I liked my instructors and I absolutely enjoyed attending classes on the SDSU campus. Some of the students in my classes were very knowledgeable in the field and already had many years of experience working in contracting. I was pleasantly surprised that I was able to keep up with all the other students."
Today, she and her husband are starting yet another chapter of their lives together outside of the U.S. military. "My husband recently retired and was offered a civilian job in New Orleans, so I'm going to adjust and enjoy our life in the Big Easy. As for advice to other military spouses and education, I say, 'Go for it, you've got nothing to lose.' It was a great experience," concludes Diaz.