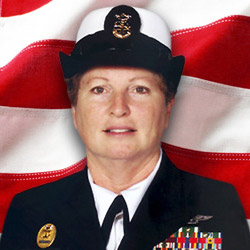 The Navy offers training as well as opportunity to learn and work in many different special technical fields as well as different environments such as aviation, surface ships, and submarine force. The most important skill that the Navy teaches sailors is leadership – from the first day you enter until you leave.
Most importantly, the skills a person learns in the Navy transfer to life in the classroom. "The Navy taught me to be a good leader, while exposing me to many cultures and countries. In this global economy understanding other nations and cultures, and having sound leadership is important to any growing organization," says Teresa Carroll.
Thinking globally is something that now comes naturally to Carroll. She lived in San Diego on and off until she was 11, then returned when she enlisted in the Navy (she has a total of 35 years, 20 active and 15 selected reserves).
Through her service she has lived in Spain, Florida, and Oregon – and was deployed in the Gulf of Arabia, Kuwait, and Djibouti Africa. Today, Carroll is a command master chief at the Fleet Readiness Center Southwest, which employs over 3,000 civilians and contractors, as well as 1,000 sailors. It was a big decision for her to return to school since she does have a busy schedule.
"My goal upon returning to active duty was to complete a master's program before retiring from the Navy. I researched both the type of degree and school to attend. I chose the Executive MBA program because I felt it would offer more opportunities for my next career and job when I do retire. I chose SDSU because it offered a very challenging curriculum, incredible faculty, alumni network, and a schedule that fits someone with a full-time job. Most of all it is a great value for the cost associated with the program," she adds.
The Navy is drawing down to a force level that is the lowest since WWII. The U.S. has the most advanced and strongest Navy in the world and to maintain that superiority – ensuring sea lanes and commerce are protected for all – is to retain the best and the brightest individuals. "We simply cannot retain the best and brightest unless we place importance on education. The Navy provides tremendous educational benefits as well as opportunities both at sea, deployed abroad, and here at home," she adds.
When a sailor takes steps to further his or her education, there are often questions whether the transition to a "civilian" classroom will be a difficult adjustment. Carroll explains her experience "When I started my first class, I wondered what in the world I was doing. Would this program benefit me and could I fit in with my classmates? My real concern starting the program was what I, as a military member, can bring to the program when there were so many extremely impressive professionals in my class. I quickly found that they were just as interested in how I dealt with challenges and leadership as I was in how they dealt with the same issues."
"My surprise was the warmth, acceptance, and the incredible dedication the school and classmates put into the program. Having an opportunity to work, learn, and socialize with very smart people, many of whom are CEOs or being groomed to be CEOs was incredible and very humbling. The instructors were all extremely knowledgeable, and had experience in the civilian workforce that added to what they brought to the class," she summed up.