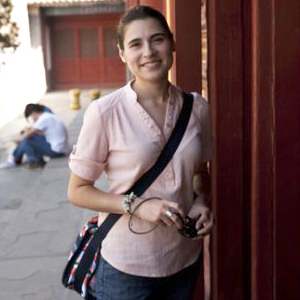 Daniela Jimenez is an accountant who lives and works in Tijuana – she is fluent in both English and Spanish, and is driven, passionate, dedicated, and committed to what she does. Last year, she was promoted to be the Scheider Electric human resources business partner (HRBP) for the Purchasing department in all Mexican locations. She also provides support to U.S. managers and directors who have direct reports in Mexico and Mexican managers who have reports in the U.S.
"I enrolled in SDSU's Human Resource Management Certificate program because I want to be able to understand the HR function from a U.S. standpoint. I know the Mexican side of it, and though I have a lot of interaction with my HR colleagues in the U.S., I want to be able to give better service and support to my U.S. managers, as well as have a better understanding of the HR role. For example, what is going on in the HR world today, what changes there are in the HR role, and how to be a strategic business partner," Jimenez adds.
Scheider Electric is driving its employees to have mobility and to explore different areas and locations, and one project for Jimenez is to cross train within the U.S. in the HR function. She says, "I wanted to study in this program for the knowledge. I love having the opportunity to develop and grow, and I think having this certificate gives me added value both professionally and personally. My boss and his superiors expect that I continue to learn. I want to be as prepared and ready for any challenge that comes my way."
The certificate has already helped Jimenez in her current role, as she believes that she understands her HRBP role much better, and understands the direction and changes within the organization. "I see the challenges that HR people face, how others in the organization see us in our roles, how we need to really change and be more strategic, and how we add value to our companies by being more involved with management. I'm much more confident and comfortable in my position," she says.
Many students in the program mention that the take-away is that the HR function is changing. Jimenez agrees, "HR is evolving and we should expect great things to come as our role and activities change. It's a very exciting time to be in HR in my opinion. It's the human aspect of a job – we work with people and they are the most important asset for any company. Managers, directors, and supervisors need to know how to manage and motivate their teams; the people and their efforts are what drive success and profits to a company. We as HR professionals need to understand our company's objectives and translate that to our employees and help by being a guide or consultant."