A lifelong learner, Deborah Damery Lazear has over 30 years of wine and food experience.  She operates a wine appreciation school in Phoenix, writes wine articles, and teaches Dynamic Wine and Food Pairing at SDSU.
What is your wine and food experience?
I started with food and studied in England, and went on to teach cooking in Vancouver, British Columbia. I wrote a cookbook, Dining out at Home. I became interested in wine, and then started studying the history and philosophy of wine with the Wine and Spirit Education Trust, when I lived in England. I eventually moved to California and sat for the Society of Wine Educators' Certified Specialist of Wine exam. Education is a passion of mine. I also earned my Rhône's Wine Educator certificate when I was in the Rhône Valley. The Spanish Wine Educator certificate followed and I continue to add credentials all the time.
Tell me something about wine and food pairing.
I don't think most people realize the chemistry involved inside their mouths when they're eating and drinking. The chemistry needs to balance. For example, the reason why steak and red wine go so well together is that steak has a lot of protein and red wine has a lot of tannins. When the two meet in your mouth, wine softens and wraps around the other, which is why it is so harmonious. It is part the science of chemistry and part the art of dining.
What is the most interesting pairing that you came across that actually worked?
For me, it's Champagne and potato chips. Just regular chips, but they have to be salted.
What do students learn in your class?
The first thing I want them to walk away with is that there are pairings that work better than others. You don't have to start with the wine first or with the food first. It depends. If someone gives you a wonderful basket of Chanterelle mushrooms, start with the food first and then pair it with wine. However, if a friend brought a bottle of special wine, you will start there and go backward. The two need to be considered in harmony. I want students to walk away knowing that pairing can be a harmonized blend or an exercise in contrast. For example, when I have a fried fish dish and it's crispy with a bit of fat in it, then I don't want a fat wine. I don't want harmony. I want a contrast, so I would serve it with a very crisp dry wine similar to what you think of a squish of lemon. Also, dessert wine must be sweeter than the dessert. If it is not, the wine will taste bitter and metallic. For me, it's not that they learn that "A" pairs with "B." It's not a recipe. Students need to learn to think hard what will pair well with the food. If they walk away with that, then they're off to a good start.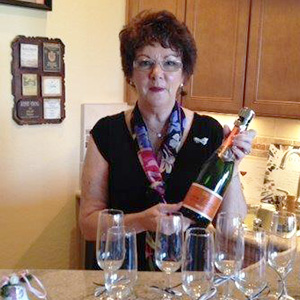 What would you say are the highlights of the class other than being able to eat and to drink?
I think the highlight is one of the group activities where the groups have to create a menu — and in the first exercise, it's a four-course luncheon. Students prepare the menu, pair it with wine, and present it to the class for feedback. I think working as a group to hear what others would pair and what others would do is a great exercise in collaboration and thinking. With their final exam question, on which I gave them their grade, they individually create a six-course dinner menu with all the wines and everything must pair vertically and horizontally. They walk away thinking about chemistry, balance, and the overall pleasure experience of the two together, not separately.
What is the future of wine and food?
I start with Julia Child and Robert Mondovi who started the American Institute of Wine and Food. They started the organization because people often forget that wine is a complement, not just an alcoholic beverage. I think the future is more and more emphasis on people being aware of pairings. I belong to a few wine tasting groups in Phoenix and it's always a surprise that people put a focus on the quality of the wine based on the price, how many points it got, and if it's good, it must go with everything. I can find a $7 or $10 bottle of wine that will pair better with a dish than a $60 bottle of 94-point wine that doesn't. I think there is a great future as young people's sophistication and global awareness embrace not just food, but wine as well.
Who should study wine and food pairing?
It's the ultimate pleasure that can turn into a passion. In today's world, there is not enough time to do things. We are always communicating electronically. Dining is something that takes us back to the pleasure of the senses and the pleasure of sharing. I think sharing wine and food with others takes us away from the electronic messaging and takes us back to sitting down and talking to people. I think that's very valuable in today's society.
Is there anything else you'd like to add?
For someone who is reading this and wondering whether or not to take the class — we now blend the level one and level two food and wine pairing classes together. It's no longer a prerequisite that they have to take level one before they take level two. I would say that if you enjoy food, you don't have to know how to cook to come away with a better understanding and be able to create a more enjoyable experience in a restaurant. I don't want people to think "Oh I don't cook, so I can't come." We all eat. If you eat for pleasure you want to increase your pleasure and enhance it with wines, this is definitely a class that you walk away from with a smile on your face.