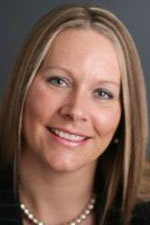 Site selection is a critical component of event planning, as students of Shelby Greene quickly learn in her course, Site Selection, Negotiation, and Legal Issues, in SDSU's Meeting and Event Planning Professional Certificate program.
"You have to do your homework. If you don't, you could end up trying to find a hotel during a citywide conference or booking Chicago as a February destination," said Greene, who co-teaches the course with Cindy Shtur. "Failing to do your homework makes for a very uncomfortable client conversation."
Just as every instructor in SDSU's program, Greene works in the industry and has a wealth of experience to share — which students consistently cite as the program's biggest strength. As a strategic sourcing planner at Enterprise Events Group in Vista, Calif., Greene is responsible for the pre-sale portion of events such as site sourcing, destination selection, hotel and program overviews, budgets, and contract negotiations.
"I'm so grateful to have the opportunity to work with such an incredible program and connect with such amazing students!" said Greene, who answered a few questions about her career and the two courses she teaches.
Please give us a brief overview of your education and career.
I obtained a B.S. in recreation administration from Eastern Illinois University in 1993. After working in the parks and recreation industry for a few years, I decided it was too cold in Illinois and took a job as a recreation manager at Sanibel Harbour Resort in Ft. Myers, Florida (queue the Jimmy Buffet music!). Thus my introduction into the hospitality industry began. I was hooked! After spending a bit more time on the hospitality, I changed direction and ended up working in the third-party meeting planning industry. And now I work for Enterprise Events Group. One of the wonderful things about the industry is how many opportunities there are. The growth and development options are endless!
How did you come to be an instructor with SDSU's Meeting and Event Planning program?
I worked at Concepts Worldwide (a third-party meeting planning company) and several employees were instructors with the program. I knew the program was exceptional, so I mentioned that if an instructor vacancy came up, I'd relish the opportunity. In 2010 a couple instructors left the program due to a hectic work schedule, so I was approached to join the team. I have been enjoying my time ever since.
How much have you seen the industry change since you began teaching at SDSU in 2010?
Well gosh … this industry is in a constant state of change. It's never ending! To me the biggest changes have to do with experience design and showcasing your value. Standard events don't exist anymore. We must ask our clients, "What do you want experience?" "What's the journey you want your attendees to take?" It's incorporating "feeling" into an event from beginning to end — a true experience! As for showcasing your value, there used to be a time when clients just took our word for it. Now with the internet at everyone's fingertips, they don't have to take your word for it. They can find many different companies that do the same thing you do. In fact, they can find it and do it on their own too. We must be able to showcase our value — not just what we do, but how we do it, why we do it, and especially why our experience is valuable.
What's a key takeaway from your course — Site Selection, Negotiation, and Legal Issues?
Learning how to ask clients the right questions to understand what they want to accomplish about their event. It's not just a check-the-box list of questions, although that's part of the process. Truly understanding what they want their attendees to see, feel, do, think and experience is so important. It helps to zone in on the entire site-selection process; finding the right destination, the right venue, and putting a top-notch RPF together!
What do you think are the biggest strengths of SDSU's program?
Having instructors who work in the industry. The practical, real-life approach really helps prepare the students for the industry. You can read books and take tests, but truly understanding what it's like in the industry and being able to share real-life industry stories are the key to the success of the program.
What do you enjoy most about your career?
The constant change, evolution and diversity.
What do you enjoy most about teaching?
Sharing my experiences and connecting with the students.
What are your top three time-management/organization tips?
1. Make a to-do list, stick to it, and keep it updated constantly.
2. Be careful about multitasking. You can fall into the trap of doing several things only moderately well.
3. Schedule appointment time on your calendar to accomplish your tasks, and don't cancel those appointments.
What advice do you have for anyone wanting to enter this field?
Get involved and make yourself known to build up your reputation. This business thrives on uniqueness, so showcase what makes you special!
What did you want to be when you grew up?
A psychologist.
Anything you'd like to add?
Speak up, chime in, and ask questions. Feel free to reach out to your instructors. We are here to help and support you!