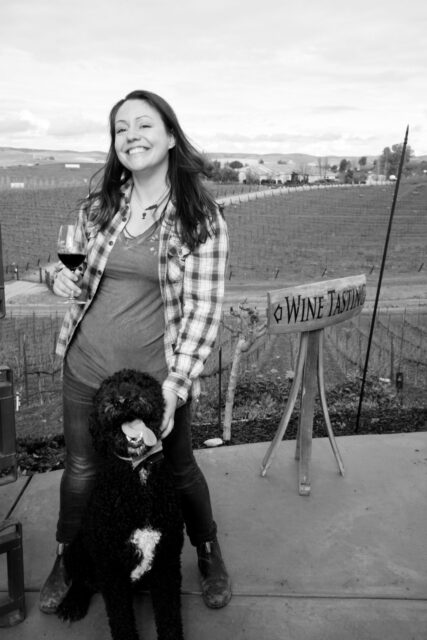 Melani Harding didn't always want to be a winemaker. She didn't even characterize herself as a wine drinker. It wasn't until she was stationed in Naples, Italy as a Navy Nurse that she began her journey towards a career in wine. The drink was inescapable; a carafe full of table wine with dinner, a landlord making wine in his garden shed. She became well-versed in the subtle differences between Italian varietals, and as she traveled across Europe, her knowledge of wine grew into a passion.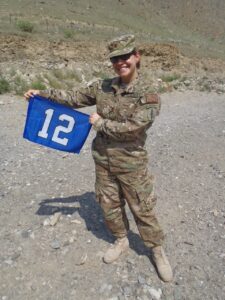 After she came back from assignment in Europe, she found herself stationed in Oceanside, California. Melani wanted to continue to expand her knowledge of the wines that she had fallen in love with during her time in Naples. She chose to take courses with SDSU's Professional Certificate in the Business of Wine program because the courses allowed her to continue working and take part in classes at her convenience.
In 2017, she began volunteering at a friend's winery in order to supplement her classes at SDSU with some real-world experience. She was introduced to an older couple who were interested in selling their vineyard, a gorgeous 10-acre property just 12 miles east of Paso Robles. Melani purchased the property in 2018. She now owns Bon Niche Cellars, which produces Malbec, Petit Verdot, and Cabernet Franc wines.
We asked Melani about her fascinating journey and her experiences with our Professional Certificate in the Business of Wine program:
What is it about wine that interests you? Did you always want to work in the wine industry?
I love that wine grows, changes, and reflects its winemaker styles and its terroir – very much like people! I fell in love with wine while stationed in Naples, Italy, and it wasn't until a few years later that I learned there was an actual industry that I could be a part of. I informally studied wine while in Norfolk, Virginia, and it took a serious turn once I had orders back to California!
How did you hear about the Professional Certificate in the Business of Wine Program at SDSU?
While stationed in Oceanside, I began searching online for wine courses near me – the program at SDSU – appealed to me because of the topics and scheduling. It was ideal for working people like me, so I could attend when it was convenient for me. Plus, I could take the classes that were most applicable to me, which helped build my business plan once I started down that path.
What were some of your favorite courses?
Some of my favorite courses were Vineyard Management and Dynamic Food and Wine Pairing. The small class for Vineyard Management was perfect; we could really dial in on our interests. My classmates and I still talk to this day! The Pairing course was a fun day of eating and drinking great foods and wines. I love sharing recipes and tricks that I learned from that one day.
Do you think that the program, or any specific courses, has helped you in your career as a winemaker? If so, how? The program has definitely helped me in my career as a winemaker – the diverse programs cover everything from Sensory Evaluation to Marketing. Plus, the networking and friends I made have opened new pathways to share my wines or ask questions when I run into problems.
You're the owner of Bon Niche Cellars. How did you come to own a winery? What made you want to operate your own vineyard?
While I was taking classes, I started volunteering at a friend's winery and vineyard. He introduced me to another couple who was looking to have a "real" retirement – they had started Bon Niche as a retirement project almost 15 years ago, and were ready to let someone else drive the tractor. They poured estate-grown Petit Verdot on the patio at sunset, and I was hooked. It took nearly a year for the paperwork and sale to close, but I'm living the dream, right? Waking up on a vineyard every day! (Of course, no one talks about all the paperwork involved!)
Your biography on the Bon Niche Cellars website says that you used to be stationed in Naples. Do you find yourself gravitating towards Italian wines because of your time there? Are there any other wine regions you find yourself enjoying more often?
I actually didn't drink wine before I got orders to Naples! Or coffee – but that didn't last long. I do gravitate towards Italian wines now, particularly the southern Italian varietals like Aglianico and Falanghina. Many of the best wines we had in Europe were brought out in a carafe during a meal out with friends, never having seen a bottle. Those were staples for our meals. My landlord even made wine in his garden shed, and those types of Italian table wines bring back great memories now.
During your time in Naples, you traveled throughout Europe. How do you think this influenced your career as a winemaker? 
I love wines that pair with food. The high acidity in Old World wines really makes them ideal food pairing wines, and I love that the grapes in the Paso Robles area maintain their acidity due to the cool nights. As Lisa Redwine pointed out, the typical wines from specific regions tend to match the food they eat, and to me, it's just such a practical way to make wine. I also love the focus on enjoying life, rather than living to work. Sharing wine over a leisurely meal with friends and family is so much better than eating dinner at your desk! While I'm working just as hard now, it's completely different, and I try to make sure that no matter how busy we are, everyone on the vineyard pauses for a moment at sunset and raises a glass to the day.
Would you recommend travel to other aspiring wine professionals? If so, which regions do you think were most important to your development?
Travel has been essential to understanding my place in the world. I love seeing how others live and the history of a culture or a community. Plus, actually being able to see the volcanic soils of vineyards of Mt Vesuvius or the medieval towns of Tuscany creates a more solid memory of the areas and the wines I drank there. There are so many more places I would love to visit!
People always seem to go crazy over French and Italian wines. Is there a lesser-known region or an uncommon varietal that you think people should try?
There are SO many fun wines out there! Like I mentioned before, Falanghina and Aglianico are two of my favorite lesser-known varietals – these were planted and enjoyed by the Romans when they were in the Campana region! Walla Walla in Washington has some fabulous wines, but what's amazing are the ones growing on the western side of the state. I also recently traveled to Missouri wine country, of which I had zero knowledge, and really enjoyed trying the local, native varietal, called Norton/Cynthiana. It's just so different than what I usually enjoy!
You went from a military career to a career in wine. How has your military experience helped you in your current career?
In my military career, I traveled a lot and ended up in places or positions where I had little expertise. With promotions, transfers, three deployments to three very different parts of the world, plus living in Italy, I learned how to be focused but flexible. I remember getting a phone call at 1 am that I was catching an early flight into Afghanistan, and walked off the plane 12 hours later without any idea who I was meeting or where I would be sleeping that night. I was confident in the Navy to take care of me, but also in myself – I knew I would figure it out. This confidence and flexibility have been vital in my first year, as has my ability to "figure it out." The learning curve in owning a vineyard and making wine is steep, but it was for most of my military experiences, too!
What advice do you have for other military members and veterans who want to work in the wine industry?
I was told many years ago to not just dream about working in the wine industry, but to try it before you jump ship. I started volunteering at a winery once every other month, and loved it so much that I didn't want to stop! There are so many options available to try out different aspects of the wine industry, like these classes at SDSU, which you can do even if you're doing something else full-time. Find a mentor – there are quite a few retired Navy and Marine folks near me who make wine now! It's a completely different world, but I find the wine business in Paso Robles to be very supportive, and it's almost like having my military family here. Don't listen to the people who tell you it's not a good move. If it's your passion, it's worth exploring.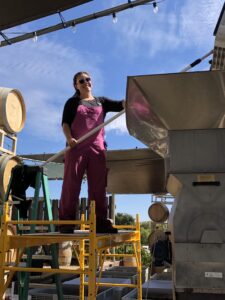 What's your favorite thing about owning a vineyard and making wine?
Freedom. I love getting to know the vines, walking around in the morning with my coffee and telling them how wonderful they are, on my own schedule. I get to purchase grapes that I want to make wine with, and make it in the style that I like. There are so many rules, permits, regulations, and policies, but in between all of that, there is freedom to express myself through my grapes and my wines.
"Bon Niche" means a good place. What does this name mean to you?
We have incredible views and stunning sunsets, plus we've worked really hard to make it a casual, comfortable place to enjoy wine country and amazing wines from the Paso Robles AVA. If I'm not the one pouring your wine, it's a family member or friend, and we focus on making you feel at home with us. It's very different than many of the tasting rooms in Temecula! I am fortunate to be alive in an amazing area, and I love sharing this "Good Place" with others.
How was this year's harvest? Is there anything special about this year's wine that you're excited about?
Harvest 2019 was quite an experience! It started a little late for us, and then finished in a hurry. With the extended growing season, our grapes came in with a little more sugar than usual, but they're tasting fantastic. Last year, we released our first rosé, which sold out by fall. We're making another one, but this one will be with Malbec! I haven't had many Malbec rosés (okay, one!) and it might be a little more lavender than rose, but I'm really excited about it. It'll be a great summer wine!
Do you have anything exciting in the works at Bon Niche Cellars? Any news or upcoming events that you'd like to share?
We have a lot of fun things planned this year! As part of the Pleasant Valley Wine Trail, we do weekend events throughout the year with different themes – plus a big Winemaker's Dinner in August, which benefits a local charity. We've had a lot of fun with Harvest Hosts, where folks with RVs can come dry camp for free for a night, and we're looking at letting tent campers come stay, too. Sunsets, wine, and waking up on a vineyard… it's been a big hit so far. We're also planning wine tastings throughout California, so come see us when we make it to San Diego. Lastly, I love talking about grapes and wine, and I'm hoping to offer more hands-on vineyard practice or tasting classes, sharing what I've learned from SDSU!