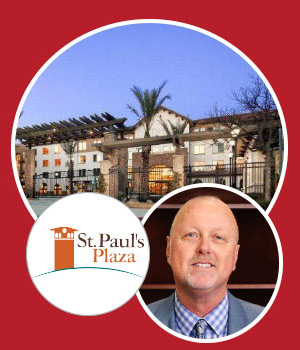 The Osher Lifelong Learning Institute (OLLI) at SDSU will expand its outreach during the spring semester by offering two classes at the beautiful new St. Paul's Plaza in Chula Vista.
"Our whole population was not being reached," said OLLI at SDSU member Louise Phipps, a retired high school principal who's chair of the operating board at St. Paul's Plaza.
"We thought it would be natural to acquaint South Bay with SDSU's OLLI program," she added. "OLLI at SDSU is a perfect fit for staying involved. Anything you were interested in before but didn't have time to learn, you can learn now."
Every semester, OLLI at SDSU features an exciting lineup of lectures, workshops, book clubs, Edventures, and events for lifelong learners age 50 and better. The Chula Vista lectures offer the perfect opportunity for individuals to sample the diversity and vibrancy of SDSU.
There's a special introductory course cost of $10 at St. Paul's Plaza, which offers easy and free parking. Afterward, attendees are invited to stay for socializing and food at the onsite pub with special happy hour pricing.
Courses include:
The Bhagavad Gita, Monday, April 3, 11am–1 pm
What does the Bhagavad Gita teach about God, duty, ethics, war, society, consciousness, human nature, violence, and the beauty of being alive? A favorite book of Gandhi who carried chapter two in his pocket his whole life, and of Thoreau who brought only one book to Walden Pond, his copy of the Gita borrowed from his friend Ralph Waldo Emerson. Very few books have had this long a reach or this profound an impact. Attendees will find out why. The registration deadline is March 27.
Thoreau, Gandhi, and King – The Politics of Right Action, Wednesday, April 26, 10 am–12 pm
During the 20th century, Mahatma Gandhi in India led a non-violent revolution defeating the most powerful empire on earth. Martin Luther King led the civil rights movement and forever changed the racial and spiritual landscape of America. Both Gandhi and King cite Thoreau's essential essay "Civil Disobedience" as a manifesto of moral political action. Attendees will trace the spiritual and philosophical roots of these three remarkable leaders and search for solutions to today's vexing social and political problems. The registration deadline is April 19.
Both classes are taught by Peter Bolland, a chair of the humanities department at Southwestern College, and a professor of philosophy and humanities. Phipps, who has earned two master's degrees and a doctorate degree, said Bolland is popular among OLLI at SDSU students.
"We hand-picked Peter Bolland," she said. "He is extraordinary. He's among the best professors I've ever been in a room with. I'm anxious for others to be exposed to him."
For more information, call (619) 594-2863, email osher@sdsu.edu or visit neverstoplearning.net/osher
Learn more about the classes at St. Paul's Plaza.