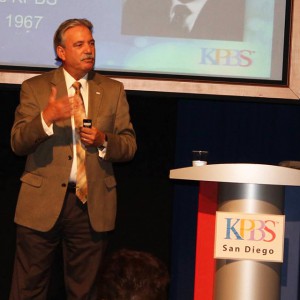 When Tom Karlo, general manager of KPBS, was recently giving members of the Osher Lifelong Learning Institute (OLLI) at SDSU a tour and discussing the station's need for constant evolution, a fire alarm went off.
"Like I was saying, we need to constantly adapt and change," said Karlo, drawing a laugh from attendees at "The Changing Face and Landscape of Media" after they returned a few minutes later without incident.
This special event was sponsored by Osher at SDSU, which offers a vibrant and diverse learning community for adults 50 and better, with intellectually stimulating, university-quality courses.
During the tour, Karlo detailed how what had once been a radio and television station evolved into "a content-producing format" that also covers numerous social media outlets. He led the group through the KPBS radio and television production studios, as well as the entire content-producing area, before the group watched the television taping of Roundtable – a lively discussion of the week's top stories where local journalists join host Mark Sauer to provide insight into how the stories affect the San Diego region.
Karlo began his career at KPBS in 1973 as a part-time student assistant while studying television and film at SDSU. He became a staff film cameraman in 1975 (a job that no longer exists) and worked his way up to GM in 2009.
According to Karlo, KPBS changed from a music and Spanish-language station in 1991 into a public affairs platform due to the Persian Gulf War. "All of a sudden, everybody started listening to us," he said. "Once our audience went up, we never went back to the way we were."
Karlo noted that KPBS experienced growing pains from 2001-08 due to such events as 9/11, the stock market crash, the insurance industry meltdown, and the mortgage crisis and recession. After taking over as general manager and completing a thorough media study, Karlo decided it was time to concentrate on local news.
"The (San Diego) Union-Tribune was becoming thinner, and TV and radio news was becoming sensational," he said. "Eyeballs and ears were going from TV and radio to a digital platform."
That's when KPBS decided to eliminate its radio and TV divisions, creating one content-producing division that supplies news to all platforms. Employees no longer worked exclusively for radio or TV; they were employed to cover those platforms as well as digital and social media.
"If you dislike change, you're going to dislike irrelevance even more," Karlo told the Osher audience.
The group watched news anchor Maureen Cavanaugh flawlessly record a 60-second preview spot for the news. KPBS picks up the national news from 12:01-12:04 p.m., then covers local news until 12:30 p.m.
Then the group watched the Roundtable taping from just outside the TV studio. Sauer was joined by guests Ashley McGlone from Voice of San Diego and David Garrick from The San Diego Union-Tribune to discuss attempts to keep the homeless from near Petco Park during the Major League Baseball All-Star Game, the paid administrative leave of the Poway Unified School District superintendent, and downsizing of the One Paseo Project in Carmel Valley due to traffic concerns
"The most impressive thing to me was looking at the amount of work that goes into something that happens in a small space of time," Osher member Marv Pulliam said. "The interaction between the different formats was also impressive."