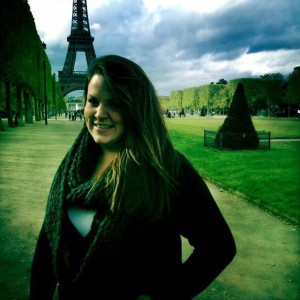 Kendra Croddy graduated from SDSU in 2009 with a bachelor's degree in English. She then went on to complete the single subject teaching credential in English/Language Arts in 2012. When she finished her credential, she was faced with the problem that many teachers and new teaching graduates face in today's economy – there are no teaching jobs in Southern California, so she decided to take action.
"I have always enjoyed traveling and learning about other cultures, and I loved my linguistics courses required for my undergraduate degree, so I decided to take this opportunity to travel while doing what I love. I enrolled in the TESL/TEFL Certificate program at the American Language Institute (ALI) in July because it seemed like the most reputable and well known teaching program," Croddy says. At the moment she is working as a substitute teacher while she waits for her final exam results so she can teach overseas.
Students in the TESL/TEFL program are exposed to practical teaching activities that can be easily adapted to fit almost any level and age. Each student is assigned a teaching "mentor," teacher currently working at the ALI. They then work with the teacher as an aid and eventually teach an ALI class.
"I believe that this program is the reason that I feel prepared to teach ESL/EFL/EIL in almost any situation. I learned more in four weeks than I learned in the five-quarter teaching credential program. This was probably the best teaching experience I could have gotten before going overseas. On the days that we weren't working in our mentors' class, we were rotating and assisting in other classes at the ALI. This enabled us to see other instructors' teaching styles and work with students from many different countries and at different language levels," says Croddy.
The ALI also helps students with job placement. There is a CV workshop – the mentor outlines what students need to include in their CV. Students are given examples of successful CVs, as well as information regarding what the job market is like in countries all over the world. Croddy adds, "I finished my CV and the ALI forwarded it to contacts in my top two countries of preference, so I just have to wait for my scores and then I plan on heading to South Korea or Taiwan."
There are two main benefits to taking this program at the ALI. First, the program can be completed during one month in the summer. Many boast that their programs can be completed in a short amount of time, but they do not offer the same classroom time and teaching experience that the ALI provides. Second, you are able to work with actual ESL students enrolled at the school. "This teaching experience with ESL students was not offered in any of the other programs I researched. The students were beneficial not only for teaching experience, but also as valuable resources regarding countries in which they come from. When I mentioned to a class that I was thinking about teaching in Taipei, I received a list of places to which I 'must go' according to Taiwanese students," Croddy says.
ALI students in this program are recorded teaching three, 50-minute lessons to peers. They also teach a 20-minute informative lesson on a piece of grammar. Students attend a grammar class, an intensive 10-hour workshop aimed at getting students to pass the grammar final exam. There is also a final exam on all of the methodology covered during the four weeks.
"This program is, in a word, intense. In the program I completed four full lesson plans –Speaking, reading, listening, and grammar– as well as a partial lesson plan on business English. We also worked with students on pronunciation, including how to teach word formation. And because the class size is small, I was outnumbered by helpful, informative instructors with a wealth of information about teaching abroad and how to address students in different cultures," says Croddy.
The ALI is an SDSU Research Foundation project.