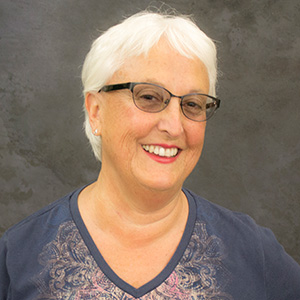 Two years ago, retired elementary school teacher Susan Furtado went to the SDSU College of Extended Studies website to see if she could find some classes to take. From there she found the portal to the Osher Lifelong Learning Institute and said, "That's perfect. It's got everything I need — no tests, no books, and interesting classes."
Do you recall the first Osher course you ever took?
It was Incredibly Strange Films two years ago, where we watched and discussed off-the-beaten-path movies like Eraserhead and The Rocky Horror Picture Show. I just loved it. I knew immediately I had found something special because I always really looked forward to going. And I wanted it to be more than one day a week. I like the film classes the best. I also like to take a religion course to mix it up, and I always take Susan Cayleff's women's studies courses. She's just a wonderful lecturer.
When did you start participating in ALI Conversation Groups and how do they work?
About a year ago I found out about it on the Osher website when I was looking for volunteer opportunities. I filled out an application, and Alan Schuchman, the ALI Student Life Coordinator, called that same day and I came down to learn how it works. We meet every other Tuesday from 6 to 7:30 pm.
There are about 30 students maximum, and four or five students sit at your table, with different countries and languages represented. They try to keep the same language-level at the same table. We'll get a piece of paper with prompts to help you start the conversation, such as "What do you like about San Diego?" It's just fun; no serious conversations. Sometimes it's game night where we play board games like Monopoly, Life, or Jenga. And there's always a treat — coffee and cookies.
A few months ago we had a cultural buffet for the first time. One of the students brought up the idea and the ones who could bring their native food brought it and shared. It was really fun. Some of the food was just fantastic, like the hummus from the Saudi Arabian students. Since it was right around Thanksgiving, I brought pumpkin pie and they were a little leery about that. Many of the students come from cultures where they use a pumpkin to bake things in – they empty it out and put beef in it and bake it — so they're not used to making a pie out of it.
One student in particular enjoys working with you. Tell us about him and your special connection.
That would be Faisal. He's from Saudi Arabia and wants to be a professor at a university. He's really interesting because he volunteers at a radio station and news station as an announcer, in Saudi Arabia. He showed me videos on YouTube and pictures on his cell phone. He's really motivated to learn English and get the most he can out of his courses. He loves to talk.
Do you see students improving?
Oh yes, we get different groups all the time. And more than just Osher volunteers come. The conversation groups include students and some community members. Osher volunteers get a free parking pass, by the way.
What do you enjoy most about the Conversation Groups?
I like to travel internationally and have always liked talking to people and experiencing their cultures. So this is like traveling, but you don't have to leave the country.
Where have your travels taken you?
I started traveling right out of college and my first outing was to Australia. I had always wanted to see the pyramids of Egypt so about five years ago I called a friend and went for two weeks to the Middle East and I loved it. On another trip, I went down the Amazon River in Peru. If it's a country where I don't know the language, I go with a tour group, otherwise I usually travel alone. I can do Europe by myself. Even in Egypt, a lot of people spoke English. I have a friend in Scotland I'd like to visit, and my next big trip will be Iceland or Vietnam.
What's the best part of being a student at the Osher Lifelong Learning Institute?
I love the teachers. I love walking on campus. It's like being back in college. I love being around the young people. There are also a lot of retired teachers taking classes at Osher; it's that joy of learning, and keeping your mind active. I also enjoy making friends. A lot of the women have lost their husbands or don't have anyone to do anything with, so we go to movies or out to lunch. And Osher offers such a variety of classes that you can find something you're interested in.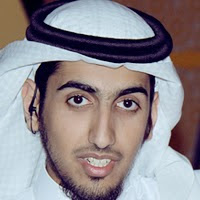 Meet ALI Student Faisal Alquraini
Where are you from?
Saudi Arabia.
What are you majoring in?
Accounting.
How long have you been a student at the ALI/SDSU?
Approximately six months
How long have you been doing the ALI Conversation Groups?
Since fall 2014.
What do you like best about the volunteers?
They speak clearly and speak about anything the students ask about, even personal questions.
Why do you enjoy talking with Sue Furtado and what do you talk about?
She is like my grandmother when she speaks with me, and she is polite. We talk about United States history and the difference between Arabic and American culture.
If you were to encourage others to volunteer in the ALI Conversation Groups, what would you tell them is the best part?
I'd like to say: Many students will not forget you forever. You will teach them something about American culture they didn't learn in class, so they need you.
Is there anything you'd like to add that I didn't ask?
I can't thank ALI's activity enough for everything. They are doing hard work for students to be happy and have fun.