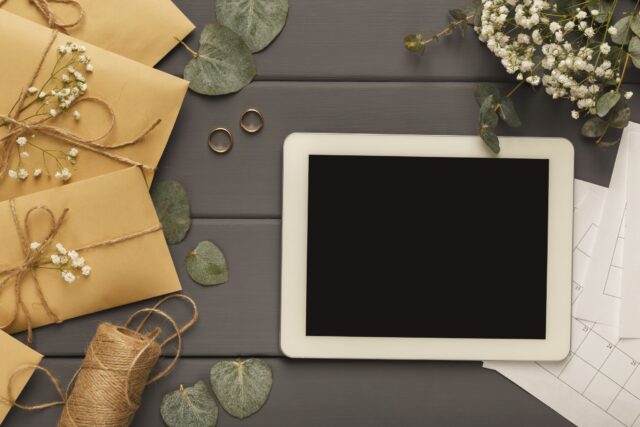 Engaged couples across the globe have had to rethink their wedding plans due to the ongoing COVID-19 pandemic. While many couples are postponing their weddings, some have chosen a more innovative approach. 
Virtual weddings, while not as extravagant as an in-person affair, can be a practical solution for couples who want to get married with their friends and families in attendance, albeit digitally. It's a great way to work around the shelter-in-place orders across the country. They're also much less expensive than a traditional wedding, which can be an important factor in an uncertain economy. 
Virtual weddings can also be much less complicated. You don't need to worry about coordinating flowers, catering, guest lists, seating arrangements, transportation, lodging, family conflicts, and other details that can turn your wedding day into a nightmare.
To help you recapture some of that matrimonial magic and plan a wedding that will knock your guests' virtual socks off, we've come up with a few tips to turn you into a virtual wedding planning expert.
Choosing Your Platform
Your virtual wedding will need to be hosted on a platform. Think of your platform as your venue; instead of arriving at a church, synagogue, country club, or dance hall, guests will be able to view the ceremony and attend the reception from their homes by signing into a video conference platform.
There are several platforms to choose from. Zoom is one of the most popular choices. For $14.99 per month, you can host meetings with 100 attendees for up to 24 hours. For larger guest lists, you can add up to 300 participants for just $5 more per month. Of course, the free version is available, but you're limited to 40 minute meetings with 3 or more participants.
Attendees can set up Speaker View to view the couple during the ceremony, while you can use the Gallery View to see all of your guests' reactions. You can also switch everyone over to the Gallery View after the ceremony for an interactive virtual reception.
If you're not feeling Zoom, other options for holding a virtual wedding include Facebook Live, Google Hangouts, and Skype. Each platform has its own benefits, so do some research and figure out which will work best for you. 
Video Chat Etiquette
Once you've selected your platform, be sure to let your guests know about any ground rules before the ceremony. Best practices dictate that guests should mute their microphones during the ceremony. Like an in-person ceremony, keeping quiet is just respectful. You should also communicate about the expected dress code, as well as what time the ceremony and the reception start. Arriving late and under-dressed to someone's wedding is just as disrespectful online as it is in real life.
Setting Up
Once you've decided on a platform and communicated with your guests, it's time to set up for your big day! Be sure that you have the technology required to host a proper wedding. At minimum, you'll need a computer or tablet with a video camera and a microphone. Preparation is the name of the game here. Figure out the optimal camera placement, auditory levels, lighting, and anything else you'll need to make sure that your wedding looks and sounds great.
We'd highly recommend a trial-run. You can host a virtual rehearsal dinner to iron out any digital kinks and make sure that your wedding goes off without a hitch.
Communicating with Vendors
While you won't need to worry about planning an entire reception, there are a few types of vendors you'll need to consider for your virtual wedding. If you'd like professional-quality photographs of your big day, you'll need to book a photographer. Don't worry — you can still practice social distancing and take some beautiful photos from six feet away!
Even though you can't provide your guests with a fully catered dining experience, you can still ensure that your guests have something to sip or snack on during your reception by sending out wedding-day gift baskets. Fill you gift baskets with personalized candies, snacks, homemade treats, or even alcohol (as long as it's allowed in your state).
You'll also need to make sure that saying "I Do" means that you're actually married! To make sure that your virtual wedding results in a legally binding marriage contract, you need to coordinate with a wedding officiant to get your marriage license officially signed and submitted. Whether it's a local officiant, a religious leader, or someone who's been ordained to perform weddings, you'll need to coordinate with them and make sure that everyone's on the same page.
Please note that virtual ceremonies may not meet the legal requirements in your area. Check your local marriage laws to find out if you're in full compliance with your local marriage laws.
Get Married
After you've selected a platform, sent out invitations, and communicated with your guests and vendors, there's only one thing left to do — get married! So put on your best outfit, pour a glass of champagne, turn on your camera, and celebrate your big day.
____________________________________________________________________________
Over the past couple months, the meetings and events industry has worked hard to adapt to the new normal by hosting events, like weddings, in a virtual format. Remember, people will always need to meet and connect, even if it's virtually. Now, more than ever, we need passionate professionals to solve to the problems our industry is facing. By earning a Master's in Meeting and Event Management from SDSU Global Campus, you can put yourself in a position to lead our industry into the uncertain future and come out stronger on the other side.