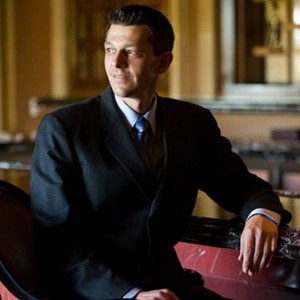 Mitch Price is a native San Diegan. Lacking a clear career path after college, he decided to bartend to pay the bills. He was hired by Pampas Argentine Grill, a family-owned steakhouse in Kearny Mesa and quickly realized that he enjoyed the social interaction with customers and the fast pace of the restaurant industry. It was at Pampas that Price began to appreciate wine. His new year's resolution for 2006 was to formally learn more about wine, not only for his own personal enjoyment, but also to help him in his career. He decided to enroll in the Business of Wine Certificate program at SDSU. Not only did he complete the program, but he now works as a sommelier and bartender at the Rancho Valencia Resort. He also teaches at SDSU in the Business of Wine program.
You are a former student in the SDSU Business of Wine program, is that correct?
That's how I started in wine. I enrolled on the advice of a regular customer.  She understood that I had a passion for wine, but that I needed some direction. The Business of Wine program was a great place to start.  It opened my eyes to the myriad of careers that one can pursue in the wine industry. I choose the path of the sommelier.
Where are you now in your world of wine?
The SDSU program helped me land a job as a sommelier at The Grand Del Mar's restaurant, Addison (now he's at the Rancho Valencia Resort). In my free time, I focused on progressing through the Court of Master Sommeliers program. I passed the Advanced Sommelier exam in 2010 and am looking forward to taking the Master Sommelier Diploma Exam in the near future.
Which class are you teaching?
It's a new class, the South American Wine Intensive.
Why South American wine?
My passion for wine started with the South American wines I worked with at Pampas. South America is a fascinating wine region and I feel like students will be interested in learning more about it. Additionally, as an Advanced Sommelier you are equipped to teach an intensive course on any wine region of the world. Having taken Spanish language courses in high school and university, I figured I would start with a region in which I was less likely to butcher the language.
What will your students learn in your class?
The focus will be on the wine giants of South America – Chile and Argentina. We will also touch upon the wine industries of Brazil, Uruguay, and Peru. The topics covered will include history, geography, climate, soils, wine laws, grape varieties, and important wine-producing regions. Furthermore, we will taste a selection of South American wines available in the San Diego market.
Who do you think should take your class?
Knowledge is power. I believe this class is particularly beneficial to people involved with or pursuing wine-related careers in hospitality, sales, distribution, or importing.  The more you know about wine, the better you will be able to take care of your clients and guests. But wine is also fun, if wine is a passion or a hobby, I encourage you to enroll and join in.