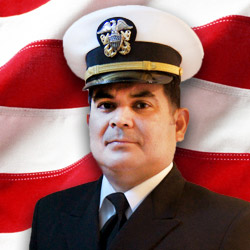 Jose Rubio has served in the U.S. Navy for 21 years; however, he is preparing for life after the military. Before returning to school to pursue an MBA, he researched programs and schools and decided on San Diego State University. "I chose SDSU since it is an unmatched program with a distinguished reputation and quality educators," he adds.
Rubio believes that the Navy exposed him to many challenges, and gave him the skills to conquer his pursuits. "The Navy equips one with basic discipline – one is immediately given the opportunity to apply skills in global settings to overcome obstacles and execute the specific mission. Analyzing and solving complex situations becomes a welcomed and instinctive practice over the years. These skills and work ethic, I believe would directly transfer to study and future professional life outside the military," he says.
Choosing what to study was his next challenge. He knew that earning an MBA would be his best option and he decided on that direction. He says, "I consider the MBA program as the capstone to my formal education growth since it encapsulates managerial, leadership, and financial strategic tools that strengthen my ability to make proper business decisions."
Today, he is enrolled in SDSU's Executive MBA program, and he also provides sound advice for those in the service who are thinking about using their GI Bill to go back to school, "Academic and intellectual enrichment are essential to self-improvement.
It enriches one's ability in contributing to improve society. I highly recommend SDSU and its programs to any civilian or military working professional who wants to enhance his or her outlook."