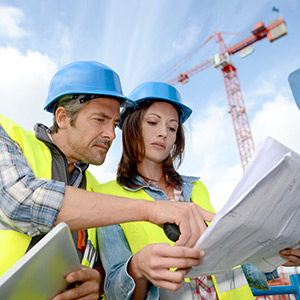 Construction firms added 19,000 workers in February, and the industry's number of unemployed workers was at its lowest February total since 2000, according to the Associated General Contractors of America (AGC).
"The overall picture for construction employment is very positive with robust job growth and very little unemployment," Ken Simonson, the association's chief economist, told the AGC. "Yet it appears that many nonresidential construction firms have run out of people to hire to keep pace with demand for new projects."
To help meet this increasing demand, SDSU's College of Extended Studies offers its online certificate programs in Civil Sitework, Construction Estimating, Construction Practices, Construction Project Management, and Construction Supervision. Whether you're a seasoned professional or new to the industry, these programs help you write your own ticket for a successful career in construction.
The next online courses begin April 4; the last day to register is April 11. All programs are authorized by SDSU's College of Engineering.
"I've been putting much of what I learned in the online courses to good use," said Mark Gonzalez, assistant construction superintendent, Pardee Homes San Diego. "Coupled with my internship experiences throughout the last few years, I'm certain the Construction Supervision certificate I received played a big part in securing my new job. I fondly believe it is one of the best educational investments I have made, and has provided me with real-world, practical knowledge as I embark in my construction career."
Each course meets online for ten weeks. Students should budget five to seven hours per week for each class.
"I learned a lot about every phase of construction, reading plans, and how to bid each different scope," said Construction Estimating student Angela Slevinsky, project coordinator, White Construction. "I also learned a lot of construction vocabulary and definitions. Now when I talk to subcontractors at work, I feel so much more confident that I actually know what I'm talking about."
Financial aid may be available to students through programs like the federal Workforce Investment Act and MyCAA.
For an online demo, go to ConstructionClasses.com/demo course. For additional information visit neverstoplearning.net/construction.