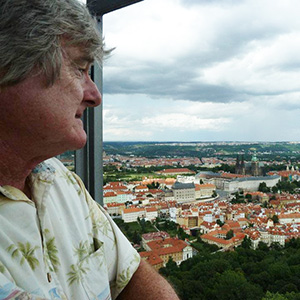 When Kevin Staff considers he has taught English as a Second Language (ESL) for nearly 35 years, he is impressed by people who never stop learning. That's why he arranged to make a posthumous donation of 20 percent of his estate to the Osher Lifelong Learning Institute (OLLI) at SDSU, which offers university-quality courses for adults age 50 and better.
"I believe in lifelong learning and using your mind," he said. "If you don't use it, it atrophies."
Staff is a native San Diegan and sees this community as "a very special place." He graduated in 1973 from Crawford High School, just up the road from SDSU.
During six subsequent years working in administration for the U.S. Army, he earned an associate's degree from George Washington University. He later completed night courses while still in the military and earned a bachelor's degree in business administration from the University of Maryland in Frankfurt, Germany.
Staff then studied for one year in Peru as an SDSU graduate student in linguistics before teaching in Sapporo, Japan, from 1984-87. From there, he helped establish an ESL program in Guadalajara, Mexico, before spending the next eight years teaching primarily Panasonic employees in Osaka, Japan.
After a year of being "semi-retired" in Prescott, Ariz., Staff returned to San Diego for good in 1997, spending his first summer teaching at SDSU's American Language Institute. He also taught at Palomar College from 1997-2015, and currently teaches at Cuyamaca College, where he has been since 2002.
During it all, the "Aztec for Life" never forgot about SDSU. Staff discussed his possible donation with the SDSU Alumni Association before deciding that OLLI was the best way to go.
"When I turned 60 last year, it was time to draw up my living trust," he said. "I was aware that OLLI existed at SDSU. To me, this was something good to do."
Staff says he would like to possibly organize a religious workshop each year through OLLI. His mother, an active member at the family's lifelong church of Faith Presbyterian, worked as a secretary in the School of Social Work at SDSU.
"At Cuyamaca College, I am teaching Chaldean Christians alongside Muslims," he said. "For the most part, they try to get along. They all left places that are not good. … Different religions seem to have similarities. Can't we all agree to disagree and get along?"
By leaving part of his legacy to OLLI at SDSU, Staff will help ensure the long-term sustainability of the institute and its multi-faceted offerings — courses, lectures, workshops, book clubs, Edventures, and special events — to a diverse community of lifelong learners.
Learn more at neverstoplearning.net/OLLI.