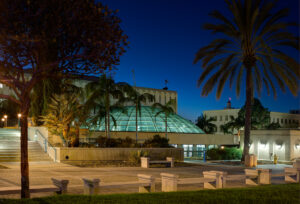 SDSU Global Campus is committed to creating an inclusive environment and celebrating diversity among students, faculty and staff. At SDSU Global Campus, we actively work to eliminate systemic racial injustices and stand against racism in both the San Diego State University and worldwide community. 
To help us examine our own actions and learn how we can work towards a more equitable community, we've formed the SDSU Global Campus Diversity, Equity, & Inclusion Committee. Through this committee, we've developed a Diversity Statement, along with seven Black Lives Matter pledges.
"We sought to identify pledge items that would have immediate impact as well as some that would require long term planning," said Kristine Catano, head of SDSU Global Campus Diversity, Equity, & Inclusion Committee. "The committee wanted to make sure we pledged actions that would benefit students, staff and the greater Global Campus community."
SDSU Global Campus has pledged to:
Create a book club focusing on works by authors of color addressing systemic racial injustices

Leverage our publications to amplify Black alumni, current students, and faculty

Increase the percentage of underrepresented minority (URM) staff to match the percentage of URM residents in San Diego County

Cultivate a relationship with the Black Resource Center

Develop scholarships for SDSU Global Campus students

Offer professional development to SDSU Global Campus staff

Dedicate Juneteenth to community service in the Black community
For Catano, it's an everyday commitment to ensure these goals are being met. "To lead change, we must continue to state our values and allow our values to lead our decision making," she said.
The first pledge is well underway. The SDSU Global Campus Black Lives Matter Reading Program recently named the first book for discussion. "So You Want to Talk about Race," by Ijeoma Oluo, examines race and racism in America through subjects that include intersectionality and affirmative action. Staff across all departments have the opportunity to access the book through SDSU Global Campus and engage in discussion with their group after reading.
The diversity plan and BLM pledges are part of a larger effort by SDSU to address diversity, equity and inclusion issues in the strategic plan. According to the university's strategic plan, "A good plan requires understanding how well the unit is (or isn't) currently supporting students, staff and faculty from diverse backgrounds; developing a shared vision of the environment that the unit wishes to create; and considering metrics for evaluating progress toward shared goals."
The university's commitment to creating a better climate for students, faculty, and staff is a shared goal among all units. For SDSU Global Campus, it's important to reflect an environment of inclusivity and equity for our diverse student population.
As to what BLM means to Catano personally, "Black Lives Matter acknowledges the existence of systemic racism," said Catano. "Black Lives Matter is an urgent cry to dismantle systems of deadly oppression."