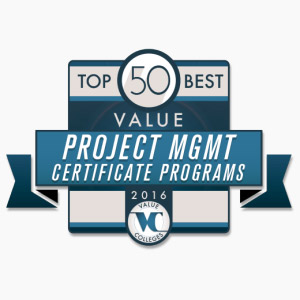 San Diego State University ranks among the top 50 in "best value" for project management certificate programs in the U.S., according to valuecolleges.com. Offered through its College of Extended Studies, SDSU's Project Management program is listed as No. 41 among national universities and colleges, and No. 3 within California State University institutions.
The SDSU curriculum is designed to give project managers (and any other professionals who work on projects) the tools they need to successfully manage any type of project – regardless of scope or industry. To earn the certificate, students must successfully complete seven required courses and two electives within five years.
Project management is one of the fastest-growing career tracks in the world today, with growth over the next four years expected to top 19 percent (for IT project management), according to the Bureau of Labor Statistics. Most of the programs featured on the Best Value list, including SDSU, are affiliated with the Project Management Institute (PMI), the global standard association in the field.
The Best Value rankings consider all U.S. colleges and universities that offer a project management certificate program (more than 150 institutions), then measure them by the following metrics:
U.S. News & World Report
Payscale College Salary Report 2015-16
Actual cost
Institutions topping the list are Bryant University, Caltech, North Carolina State University, Rutgers University, and University of Chicago. Among CSU programs, Sacramento State ranks No. 32 and San Francisco State is No. 33.
For more information on SDSU's program, visit neverstoplearning.net/PM