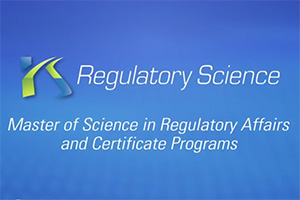 When it debuted at San Diego State University 15 years ago, the Master of Science Regulatory Affairs program was the first of its kind west of Philadelphia. The program blazed yet another trail in 2008 when it went fully online. Whether in the classroom or online, the Regulatory Affairs program has been positively impacting the lives of students ever since.
Take Scott Harris for instance, currently the vice president of regulatory affairs and product development for the pharmaceutical company, Adynxx, in San Francisco.
Several years ago, Harris was working as a research biochemist in the laboratory for a pharmaceutical company. However, his interest was to move out of the lab.
"I stumbled across the MSRA (Master of Science in Regulatory Affairs) program while researching advanced degrees on the SDSU website one day," he said. "The curriculum really struck me as providing a great overall foundation for understanding pharmaceutical development, while also providing some essential business skills that a regulatory affairs professional needs. Immediately upon starting the coursework, I was able to apply the learning in my position at the pharmaceutical company."
The program is one of two such curriculums offered at SDSU. The university also has an <.
Both programs focus on good manufacturing processes, laws, and regulations mandated by major governmental regulatory agencies, specifically the Food and Drug Administration (FDA) and its international counterparts. At the core of both programs are topics related to discovery, development, testing, manufacturing, commercial distribution, and post-marketing surveillance.
In order to enroll in either of these programs, prospective students must hold a baccalaureate degree from a regionally accredited institution. These regulatory science programs are offered by SDSU's College of Sciences in partnership with the College of Extended Studies.
According to Harris, the Master of Science in Regulatory Affairs program at SDSU "was instrumental in advancing my career" from a research chemist to his current vice president role. He said that because of the SDSU course, he was quickly able to move out of the lab and into a development role at his former company, addressing issues related to regulatory affairs, quality assurance and product development.
"The combination of the essential knowledge basis provided by the MSRA coursework, and being able to immediately apply it in my daily job really allowed me to retain much more information," he added. "Following the program I have gone on to work on a broad range of bio/pharmaceutical programs from pre-clinical to marketed products, across many therapeutic areas. The MSRA program significantly contributed to my being able to advance my career at a rapid pace."
Lauren Moses, now a regulatory document specialist in the regulatory affairs department at Halozyme Therapeutics in San Diego, also attributes her career ascension to the SDSU Master of Science in Regulatory Affairs program.
She graduated from UC San Diego with a bachelor's degree in biology but knew very little about regulatory affairs when she began the SDSU program. Before coming to SDSU, she had started a graduate program in human physiology right after graduation.
"I quickly found out that although I was interested in science, being an academic scientist was not the career path I wanted to pursue," Moses said. "I knew that I wanted to find a career where I could still be involved with scientific work, but in a way that drew on other interests and skill sets I had. I found the regulatory affairs program at SDSU online and it seemed like a perfect match."
Why? Because she noted that regulatory affairs requires strategic thinking, thoughtful communication, and an understanding of the science behind your products.
"Through the program, I was able to network with instructors and classmates, and ultimately, the connections I made during my time in the program helped me get my first job in the industry," she said. "Not only did the program give me the background I needed to start a career in regulatory affairs, but it helped develop professional skills that I benefit from every day."
Lorah Bodie, associate director of regulatory science programs at SDSU, said the curriculum started in 1999 on a face-to-face basis. It became a hybrid program in 2004 (with more than 50 percent delivered via distance learning) before going fully online in spring 2008.
A majority of students, Bodie said, already are working full-time and want to come out of the program with more marketable job skills. She added that a significant program attraction is the variety of ways that a student can use their degree and be involved as a regulatory professional.
"Most of our students are already life science professionals," said Bodie. "The broad-based skill set that our students acquire prepares them for positions at all phases of the product development life-cycle. Many of our graduates have told us that our program opens doors for them to transition into and advance their regulatory careers."