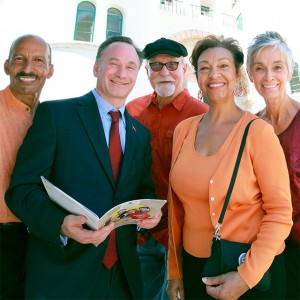 One decade ago this fall, the Osher Lifelong Learning Institute debuted at San Diego State University with 16 students and seven courses that included "Religions of the World," "The Impolite Subjects: Sex, Religion, and Politics," and "Disease and History." Today, the Osher Institute boasts 685 members and offers more than 130 courses that include Book Clubs, Lectures, Workshops, Camera & Stage Productions Clubs, and off-campus Edventures.
How did we get here from there? It all began with a man named Bernard Osher. Among other accomplishments, Osher was the founding director of World Savings Bank. He was committed to higher education, the arts, and social services, and in 1977 established the Bernard Osher Foundation. It wasn't until 2000, however, that the first Osher Lifelong Learning Institute was established with an endowment grant at the University of Southern Maine, in Osher's home state. The foundation next made a development grant to Sonoma State University in California, which quickly attracted an audience of older student members. The success of these two programs encouraged Osher to greatly expand his support for similar lifelong learning institutes.
The very next year, 2002, Davene Gibson, associate general manager of the SDSU Foundation (known today as the SDSU Research Foundation), and her husband were having dinner with friends who were involved with the Osher Institute at Cal State Fullerton. "It sounded amazing and I thought 'We need to do this at SDSU'," said Gibson. She brought her idea to CES Professional Development Director Tamara McLeod (now the executive director for CES programs) who, in turn, introduced it to Emeritus Dean William Byxbee. One thing led to another, and in spring 2004 an initial grant was secured – $100,000 to help cover operational costs through July 2008. The Osher Lifelong Learning Institute at SDSU was born.
What made the timing particularly perfect was the fact that the new $13 million Extended Studies Center was just months from officially opening, and the San Diego Trolley was due to arrive at San Diego State the following year.
"Davene envisioned a program that would re-connect older alumni and the community-at-large with the wealth of intellect and resources available at SDSU," noted McLeod. "She helped us to see how this program was a perfect fit for the College of Extended Studies to administer, and we were eager to support it."
Founding director M.C. Brady was hired and began building the membership, courses and events from the ground up. "M.C. did an incredible job," said Gibson. "She went to senior communities, churches, synagogues, community groups, women's groups – everyplace she could to let people know about the new Osher Institute at SDSU. She also recruited some really wonderful teachers and got a curriculum together. It was a lot of work."
"I was very fortunate to have the support of Dean Byxbee and Assistant Dean Jan Wahl," said Brady. "Their belief in the importance of having a program like this was critical. But the members and the teachers were and still are the extraordinary element. The members' intellectual curiosity and passion for learning, and the teachers' love for their subject and desire to share it really makes the Osher Lifelong Learning Institute a success."
Along with getting quality people to offer quality classes, another component to making the Osher Institute a success was (and still is) careful orchestration when it comes to scheduling.
"It's a balancing act, having rooms available, having the professor available and scheduling courses when parking is available," said Gibson, a founding advisory board member. "I really have to acknowledge the university and the College of Extended Studies for working together to make the parking arrangement work. Making it easy makes people feel welcome and lets them know they can do it."
Parking permits are included with course enrollment, and Osher students park in Parking Structure 2 (aka PS2) which connects directly to the Gateway Center building where classes have been held since 2004. The trolley and bus are also convenient ways to get to campus, and both stop at walking distance from the Gateway Center.
To accommodate the ever-growing Osher Institute membership and the growing staff, another milestone occurred during summer 2014 – staff offices moved to Aztec Mesa, just east of Viejas Arena, walking distance from the Gateway Center. Aztec Mesa also offers additional classrooms, each one spacious and state-of-the-art.
The growth of the program was visible in small ways as well. Though the first-ever courses were announced in a glossy-covered 10-page catalog, subsequent course offerings were for years promoted via Xeroxed newsletter (in classic hues of goldenrod and powder blue). In spring 2008, the newsletter morphed into a full-color glossy-covered mini-catalog, then in spring 2010 made the leap to its current full size.
One constant has been the Open House event that kicks off each fall and spring semester. The first one was held on September 18, 2004, and the most recent on September 13, 2014. With a new name – the Fall Semester Kickoff Event – and a new format, the event featured topic-centered roundtables where students could chat with instructors about their upcoming courses, versus the past tradition of seeing a short presentation from every instructor.
Though there's no summer semester kickoff event, summer courses are offered and they're more popular than ever. "Enrollment increased by 234 percent in summer 2011 over summer 2010, simply by tailoring courses to Osher students' busy summer schedules," said Rebecca Lawrence Kanter, program director at the time. "We began offering one-time lectures, called 'mini courses,' and one-day field trips, rather than four- and six-week classes."
Also new, as of spring 2014, are four Leadership and Volunteer Committees where Osher members can shape everything from what courses are offered to how to market them via social media: Curriculum & Instructor, Student Fellowship & Events, Marketing & Membership, and Leadership & Volunteer Opportunities.
Osher students also have the unique opportunity to join in conversation groups with international students from SDSU's American Language Institute, and serve as mentors for SDSU students through the Aztec Mentor Program. Debbie Carson – one of San Diego's first public defenders in 1984 – learned about the program through Osher, and has mentored undergraduate students who think they might be interested in pursuing law as a career.
"I mentored a senior last semester and it made me think back to when I went to law school," said Carson. "I could have used a mentor at that time. I had so many questions and didn't know anyone in the legal community. This is a great program … and my fellow Osher students have a world of experience to share in so many different professions," said Carson.
"Watching the sense of community unfold over the years has been wonderful," added Gibson. "All the people who worked with M.C. in the beginning all believed this could be such a jewel to be offered to the community. And because we have so many SDSU alums who have stayed in the community, it was also an opportunity to offer them something and bring them back to a campus that we're really proud of. The Osher Institute is a marvelous program and I'm just pleased that the College of Extended Studies and the university – it's a partnership – have continued to support it."
Today there are 119 Osher Institutes at universities across the nation, each with the mission of providing high-quality, university-based learning to adults age 50 and over. Learn more about the history of the Osher Institute and the Bernard Osher Foundation at OsherFoundation.org.
The People of SDSU's Osher Lifelong Learning Institute
Directors
M.C. Brady, 2004-2007
Erica Bouris, 2007-2008
Rebecca (Lawrence) Kanter, 2008-2013
Emily Moore, 2013-Present
Coordinators
Kristina Regala, 2004-2005
Kesser (Mohammed) Bawari, 2005-2009
Jennifer (Barrett) Iden, 2009-2012
Roberto Perez, 2012-2013
Rhonda Beard, 2013-Present
Amber Rich (assistant), 2012-2015
Natasha Nace (assistant), 2013-Present
Founding Advisory Board Members
Billie Abbott
Mario Garrett
Davene Gibson
Paulina Gilbert
Gerry Graf
Diana Gray
Laura Impastato
Frea Sladek
Pam Smith
Ce Ce Wilkens