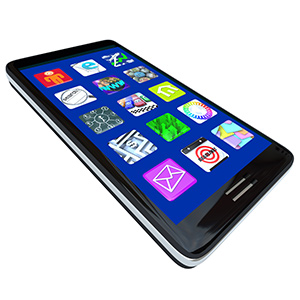 The mobile applications industry is booming, with a growth rate of 22 percent from now to 2022, according to the Bureau of Labor and Statistics. The number of apps downloaded from the Apple App Store alone is expected to reach 268.69 billion this year.
You can be part of this high-demand, high-paying industry in as little as one academic year, with SDSU's graduate-level Advanced Certificate in Web and Mobile Applications Development program — ranked top 10 in the U.S. by successfulstudent.org.
A distinguishing feature of the program is that students learn the science behind Android and iOS apps development versus just the how-to.
"Many other programs just train students to use particular tools. Our program offers graduate-level courses that teach principles," said Leland Beck, chair of SDSU's Computer Science Department. "The goal is a thorough understanding of the way Web & Mobile applications work at the lowest level. Once students understand these principles, they can build on that knowledge to learn and use many different types of higher level tools. So our courses are more rigorous, and demand more from the students. But the students learn much more, and are much better prepared for whatever technological developments come next."
Additionally, at less than $5,000, tuition is among the lowest in the U.S. for this type of program. Students can learn on campus at SDSU, online, or a blend of both (hybrid classes), and courses may be applied to a master's degree.
Student success stories include Justin Boseant, a production engineering manager for Facebook; Prashanth Govindaraj, who landed a job with Apple and is now an iOS senior software engineer at Reputation.com; and Harsh Shah, a software developer engineer at Yahoo!
"I recommend these courses to anyone who is really passionate about technology and wants to learn technologies that currently drive the software industry," said Shah.
Boseant added, "Regardless of what type of computer systems development one does, knowing and understanding the mobile and web software stacks is crucial to a successful career."
Applications for the spring 2018 semester are currently being accepted. The deadline to apply is Wednesday, Nov. 1, 2017. For more information, please visit neverstoplearning.net/mobile or call Teresa Couri at (619) 594-1931.