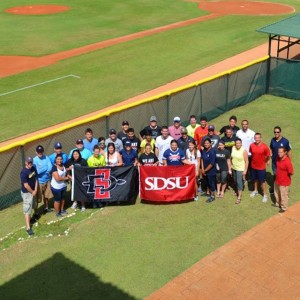 Roberto Castro is the manager of event operations at Petco Park. Mike Warkentin is the venue manager of Rexall Place at Northlands in Edmonton, Alberta, Canada.
What do they have in common?
They are among the 250 graduates of the Sports MBA program at San Diego State University, which is celebrating its 10-year anniversary.
"What I learned at San Diego State is the skillset and toolbox for my job," said Warkentin, who manages the arena that is home to three professional sports teams, including the Edmonton Oilers of the National Hockey League (NHL). "Every day, I definitely apply something I learned at San Diego State."
Castro was already working for the San Diego Padres when he took the Sports MBA program, which assisted him in climbing the career ladder.

"The Sports MBA program helped me better understand some of the business aspects of sports; including but not limited to, accounting principles, statistical analysis, and organizational behavior," he said. "During that time (2010), the Padres were going through an ownership change and the Sports MBA helped me secure my job in operations. I was promoted within six months. … In addition, the program lent itself to a large network of professionals working in sports."
Students do not focus on the scores and the athletes; instead concentrating on the front offices, sponsors, agencies, and executives who run the sports industry. They are exposed to a high-quality curriculum taught by top SDSU faculty members, learn from industry experts, and are mentored by outstanding alumni. This year's class, in fact, once hosted 27 industry-specific speakers over a four-day period.
Program graduates work for such organizations as the world-champion Seattle Seahawks, Minnesota Vikings and Cleveland Browns of the National Football League; the Padres and Los Angeles Angels of Anaheim in Major League Baseball; National Basketball Association teams such as the Los Angeles Clippers, Sacramento Kings and Golden State Warriors; and the Anaheim Ducks of the NHL.
But the program is not just about major-league sports franchises. Alumni also work for organizations including Under Armour, Competitor Group, IMG, Red Bull, GMR Marketing and Cobra Puma Golf.
"We are in a strategic location in San Diego with every possible sports position either here or within a short drive," said program director Scott Minto, a former Sports MBA student. "There are hundreds of companies. Our students have been able to carve out amazing careers because of what they learn."
As a part of their curriculum, Sports MBA students travel each year to the Padres Dominican Republic Baseball Park academy and other nearby locales to study baseball's impact on a country that provides numerous major-league players. (The Padres academy produced its first major-league player this year, outfielder Rymer Liriano.)
The Sports MBA students also perform hands-on community service work, fund-raising and planning strategic community initiatives, and research of team operations and player development in the Dominican Republic. "It serves as a big learning experience," Minto said.
SDSU hosts an annual first-of-its-kind sports business case competition each March. The SDSU team won the competition in 2013 that also features such universities as Duke, Georgetown, New York, Northwestern, Cal-Berkeley, Notre Dame, and Michigan.
Minto said SDSU only accepts about one-third of its applicants because it wants the top-level students who are most likely to succeed.

"Good things happen when you put in the time," said Warkentin of Edmonton. "The work you put in gives back to you. I have reaped the dividends because of that."
Added Castro of Petco Park: "Overall, the Sports MBA program has prepared me for my future in the sports industry. The connections, experience, and knowledge have been an invaluable part of my life."