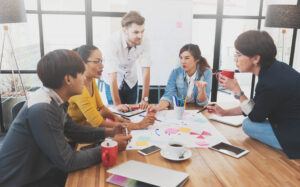 After six years of employment in the technology arm of the local radio broadcast industry, Daniel Youngberg was laid off in September 2017. With a goal to transition out of software/application development and into management, he enlisted the help of the San Diego Workforce Partnership to update his skills.
The SDWP introduced him to the Professional Certificate in Project Management at SDSU Global Campus, and while only three courses into the program, Youngberg applied for a position posted in one of the classes. The job was for a program manager for iTech, a global company that engineers and manufactures batteries, power accessories and custom power solutions to the portable electronics market. Youngberg got the job. As he continues to complete his professional certificate, he answered a few questions about his career and his journey through SDSU's program.
Please give us a brief history of your education and career.
I graduated in 2000 with a bachelor's degree in Computer Information Systems. After graduating college I started off as a software developer for a small startup in Santa Barbara until the business ceased operations six months later. Next I took a role as an application developer for the San Diego County Clerk Recorder's office developing an assessor parcel application to maintain assessor parcel information (APNs) for the county. I then transitioned as an information systems manager for a small marketing firm in Agoura Hills, Calif. that ceased operations two years later. Next I became the campus webmaster for UC Santa Barbara, maintaining eCommerce web applications on behalf of the Office of Public Affairs and Chancellor Yang for five years until the lay-offs of 2010. Moving to San Diego, I took a very interesting role as an application support administrator for the radio broadcast industry for six years. I wore many hats including an informal role of managing test projects and new technologies, specifically watermarking audio [embedding an electronic identifier, typically used to identify ownership of copyright].
How does the San Diego Workforce Partnership process work?
Workforce requires that you complete courses at their facility that cover professional job searching skills, résumé writing, videotaped mock interviews, and salary negotiation, as an example. After completing a series of classroom courses followed by career assessment tests to match you with the career path you would most likely be successful in, a case worker is assigned to help you find work. This includes grant money to enhance your existing skillset, and information on job fairs and other avenues of training and employment opportunities. The primary goal of Workforce is to get you working ASAP, and off unemployment.
Tell us more about the job postings in the SDSU project management courses.
My best job leads and interviews came from the courses in the program. Nearly every course instructor would hand out a flyer advertising a job opportunity in project management, or a perspective employer would make a presentation during class to present a job opportunity. All it took to land a job was to apply. In July 2018, I got a job as program manager with iTECH, and will continue the SDSU certification program while working. I'm two courses away from taking the Capstone and I still need to complete two electives.
What do you think are the biggest strengths of SDSU's program?
The experienced instructors in project management, applying what you're learning in the class with group projects, and the job listings that may land you a job!
How important is it that the instructors actually work as project managers?
EXTREMELY important. It's invaluable when the instructor can share real project management experiences with the class.
Do you have any insights from the courses you've taken so far?
From working in teams on the classroom group projects, and my 17 years of professional work experience in information technology, I find team building to be the most fundamental to success. You will always win the "buy in" from upper management by working hard, and raising the bar for your peers. At the same time this effort generates healthy competition with your peers by not wanting to be the person that did shoddy work on their part of the project presentation (in the classroom or on the job). The rest will generally follow: quality, completing projects on time and on budget, and getting the best grade or accolades from your peers.
How feasible is it work full-time and take the program?
I am now a full-time employee and continuing to take the project management course at SDSU. If you want it, you will find a way to make it work in your weekly evening schedule one night a week.