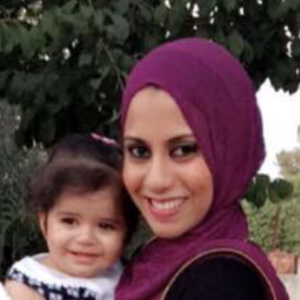 Sahar Muhareb is a first-grade teacher at Orange Crescent School in Garden Grove, California. She's also a graduate of our Teacher Induction Program.
"I chose the Teacher Induction Program to clear my CA credential," said Sahar. "But I can honestly say that by choosing SDSU, this served more than just a requirement, but rather, it's been a time of professional growth as an educator. I have gained confidence in my teaching abilities that was clearly mirrored in my classroom, my students, and my personal reflections."
We wanted to find out about some of her favorite aspects of the program, and how she used the lessons she learned to become a more confident, well-rounded educator.
What was your favorite part of the Teacher Induction Program at SDSU?
To begin, I loved how the program director was so quick to respond to my many questions during the enrollment process. I appreciated how SDSU was able to work and support my unique teaching background. When it came time for my classes, I enjoyed speaking to my mentor during our weekly sessions. I had so much to share about my week, I received great feedback about my strengths and areas of improvement and overall, enjoyed communicating with a knowledgeable professional. Because of all this, my confidence in teaching continues to grow. 
What was the most valuable aspect of the program?
The most valuable aspect of the program would have to be that as a teacher, I was encouraged to try new things by my mentor. Sometimes they worked with my class, and sometimes they did not. I used those successes and failures as personal, teachable moments. I was able to reflect to my students what I teach, how I teach it, and why I teach those skills and content to them. This allowed me to build a professional rapport with my students where they came in ready and eager to learn in a safe and trusting environment. 
How did the program help you in your career as an educator?
As a new educator, I have always been nervous about trying new things in my classroom. I continued to question my abilities about how I am going to teach these curious, young minds and engage them, so they are excited to come to my class every day. The induction program at SDSU helped me reach my full potential as a teacher. I was encouraged and supported by my mentor to implement new strategies in teaching, reflecting, and managing. After each weekly meeting, I came in with new ideas and exciting plans, and that reverberated in my classroom. I can tell my students were so interested to see what I had planned for them. I was able to plan lessons and strategies that were not only engaging, but rigorous and challenging for my students. My mentor encouraged me to try these new ideas and told me, "you'd be surprised what first graders can do." I'll never forget that because my first graders were beaming with excitement and excelled in higher-level learning.