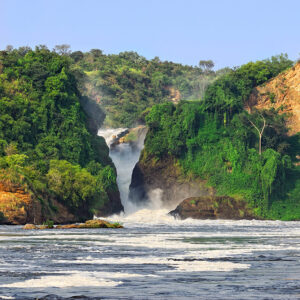 Uganda, called "The Pearl of Africa" by Winston Churchill, promises to be quite a gem for students who participate in a study abroad program next summer through San Diego State University.
"Being there is an amazing experience," said Judy Shepherd, Ph.D., who will guide the 17-day, faculty-led study abroad program Women and Development: Issues and Initiatives Impacting Women in Rural Uganda. She previously spent three years in Uganda from 2012-15 as a Fulbright Senior Scholar and visiting lecturer at Uganda Christian University (UCU).
"Uganda is on the equator, bordering five countries," Shepherd added. "The culture values hospitality and education, and living there was such an enriching experience for me."
Uganda has a growing middle class and hosts many development agencies which promote access to primary and secondary education, water/sanitation/health projects, and reduction of deep poverty through income generating activities. Among those helping is the Widows & Orphans Support Organization Uganda (WOSO-UG), which supports 56 orphaned children in primary school, widows through a micro-credit project, and a community secondary school, with Shepherd as its U.S. fundraising coordinator.
Shepherd said the study abroad program through SDSU's College of Extended Studies will provide an opportunity to gain an understanding of development challenges and initiatives in Uganda. It includes three units of credit and is open to students in their third or fourth year of undergraduate studies, graduate students at SDSU, students from other colleges and universities, and the general public.
The course includes visits to three regions:
Central Uganda, visiting micro-enterprise and HIV/AIDS prevention programs and attending cultural activities in the capitol city of Kampala
Southwestern Uganda, crossing the equator and visiting a community secondary school, micro-credit project, and health clinic
Northern Uganda, observing service projects focused on rehabilitation and reconstruction after the country's 20-year insurgency, as well going to a national park where animals such as elephants, lions, giraffes, crocodiles, and hippopotamuses roam
"I want students to be able to learn from Ugandan educators and leaders and to be able to see first-hand community projects making a difference," Shepherd said. "I want them to see how people help each other and themselves to bring about change."
During her three years living and teaching in Uganda, Shepherd collaborated at her host university (UCU) in teaching and administrative activities including program assessment and curriculum review, as well as teaching courses in social development, rural issues, grant writing, and research and dissertation supervision. Her areas of expertise are community development, organizational development, macro-practice, and research.
Prior to her work in Uganda, Shepherd served as a Fulbright Scholar at the University of the West Indies in Trinidad and Tobago and spent 10 days lecturing in Mongolia for the U.S. International Information and Education Exchange program. Before joining SDSU as a lecturer, she was an associate professor and department chair at the University of Alaska Fairbanks.
She said her experience in Trinidad and Tobago from 2006-09 helped give her the inspiration to spend three years in Uganda.
"Education is very valued in Uganda," she said. "The people see education as a way to get out of poverty and open up opportunities."
According to fortheloveofwonder.com, Uganda is known for its diversity:
"Uganda is the most ethnically diverse country in the world. Not only are there expatriates from all around the globe, but Uganda itself has more than 40 ethnic groups.  This means there's opportunity to learn different languages, visit different worship servies, and just meet all kinds of lovely people."
For information on all summer study abroad programs offered through SDSU's College of Extended Studies, call (619) 594-0540 or visit neverstoplearning.net/studyabroad.