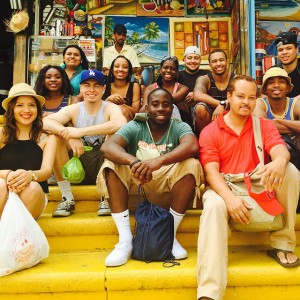 Under the direction of SDSU's chief diversity officer, Aaron Bruce, Ph. D., 12 SDSU students experienced a life-changing adventure over the summer.  SDSU partnered with the Council on International Educational Exchange (CIEE) to develop a two-week faculty-led study abroad program in the Dominican Republic titled "Global Leadership and Diversity Identities."
The students engaged in memorable events including a meeting with state department officials at the U.S. Embassy, activities with Dominican students, a visit to a major league baseball academy, and a community engagement activity with locals in Santa Bárbara de Samaná to learn about the role of African American freed people in the town's rich history.
"As a graduating senior last semester, I was in need of fulfilling a study abroad requirement in order to graduate," said program participant Abraham Gomez. "With the increase in tuition and general cost of higher education, the study abroad program in the Dominican Republic allowed me to achieve this goal. This was one of the most inexpensive programs SDSU has to offer when studying abroad and will allow low-income students the opportunity to see a different part of the world."
Bruce noted that historically, only five percent of African American and seven percent of Hispanic students in the U.S. study abroad. This three-unit study abroad program was designed to expose historically underrepresented college students to international travel, research, and service while having a positive impact on their academic and personal development.
"We want all of our students to be outstanding leaders, diverse, and part of the globalized workforce," Bruce said. "This faculty-led study abroad program was created for a student population that may not be able to have experiences such as a summer in Europe.
"The course gave students the opportunity to learn about their own identity and fit into a community. It taught them what it meant to be an African American or Hispanic student traveling abroad."
Among their most eye-opening experiences was spending time in a Haitian community of the Dominican Republic among migrant workers who did not have water or restrooms.
"It's important to understand that you can make a difference in the world," Bruce said. "You can help people with significant needs."
As a result of the study abroad course, Bruce noted that some are considering international careers or expanding their scope of research.
"Some of the students were the first in their family to travel outside of the United States," Bruce said. "They've never had an international vacation. The trip helped demystify the international experience."
Perhaps their most memorable time came at the end of the program in Samaná, an island where many African American freed people from Philadelphia emigrated in 1824. Residents in this beautiful area maintain many elements of 19th century African American culture – such as their brand of English, food, games, community organizations, African American names, manners, music, and some recipes that have been preserved as a result of their isolation.
Upon return to the U.S., each SDSU student wrote a reflective essay about her or his unique experience in the program.
"This program definitely opened your eyes and made you experience a whole new side to the world in the two short weeks we had," Gomez said. "Dr. Bruce and the CIEE staff in Santo Domingo were phenomenal in creating a group of global leaders and ambassadors for the SDSU community."
SDSU sends over 2,400 students on study abroad experiences each year. As part of their strategic plan to increase those study abroad numbers innovative programs are being created to meet the needs of our diverse student population. The Faculty-Led Study Abroad Office in the College of Extended Studies has been integral in moving this inclusive initiative forward.