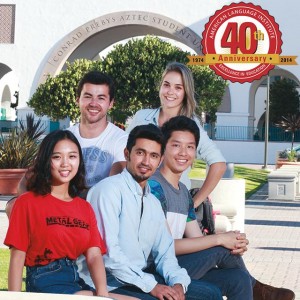 The American Language Institute celebrates its 40th birthday in 2014, recognizing four decades of excellence in providing English-language training to students from around the world.
"Over the years, we've had tens of thousands of students, with enrollees from nearly every nation on earth," says senior director and veteran teacher Van Hillier who has been with the ALI for 27 of those 40 years.
Starting out in a few trailers on the edge of the SDSU campus in 1974, the ALI has grown to become one of the largest university-based ESL programs in the entire country with more than 4,000 students entering its doors every year.
"We have always prided ourselves on being a pathway to professional and academic development and success for our students," added Hillier.
The ALI has grown over the years to offer language programs in seven main areas: Intensive English for Communication, English for Academic Purposes, Pre-MBA and Pre-Master's, Semester at SDSU, International Business English, and Teacher Training.
Today students from many different countries and cultures come together to learn in a nurturing environment that prides itself on academic quality and service to students.
"Our faculty is top notch, and many of them have been with us for more than 20 years," says Hillier, "and I think we stress not only the teaching of English, but also how to be successful in the use of English whether it is being learned to go on to a university here, or to go back home and be successful in business."
"In fact, the ALI has been in existence long enough that often times our faculty members are teaching the children of those whom they taught many years ago. I guess that's a result of longevity, and confidence in our programs," he added.
ALI students reap the benefits of many developments over the years both in and out of the classroom. In the classroom, the many different programs are all offered at a variety of language-skill levels so that each student gets a tailored program that fits his or her needs. Outside the classroom, the constant offering of activities includes community service to trips to Los Angeles, the mountains, and other fun destinations. Elective offerings include surfing, golf, and a complete range of intramural sports.
For many individuals, the experience at ALI does not begin and end while attending SDSU. Numerous faculty members and students keep in touch via social media such as Facebook, Twitter, YouTube, Pinterest, and the ALI blog. For more information, visit the ALI home page at ali.sdsu.edu.
In the Beginning …
It all started with a phone call to San Diego State University 40 years ago from the San Diego-Yokohama Sister City
Society, whose mission is "to foster and increase the enrichment of cultural and educational ideas and to link business development between the citizens of San Diego and Yokohama."
The local society was seeking to find an educational facility that could train 25 Japanese students. SDSU accepted, and from there
the American Language Institute was formed.
"It was exciting because everything was new," said Ann Johns, founding
director of the ALI.
At the time, little could anyone forecast what the ALI would become – one of the first university-based intensive language institutes in California, and now one of the largest in the country.
And to think that it began with a director whose offices were in a converted apartment building, who had to send scouts onto the SDSU campus to find available classroom space. Today, ALI classes take place in the modern Extended Studies Center and Gateway Center buildings.
"The ALI has been, and continues to be, groundbreaking in a number of ways," said Johns.
For example, in 1980 the institute hosted and educated the first single Saudi women to come alone to the United States. "We hired a full-time chaperone and the women seemed to have a great time," Johns said. "One of these ground-breakers' daughters has recently been an ALI student, so the tradition continues."
The ALI's tradition of being innovative includes being among the first institutes ever to offer a teacher training certificate program for those who would like to teach English abroad. The TEFL/TESL Certificate Program has sent more than 150 students to teach in 40-plus countries over the past decade.
"The ALI began with a sense of community, a sense of family, and a sense of  'we're in it together,'" said Johns. "It is still true of the teachers, staff, and students."
ALI Student Success
Valeria Garcia Alvarez from Venezuela came to SDSU to take part in the English for Academic Purposes program. She concentrated on improving her English reading and writing skills so that one day she will be able to get into a master's degree program.
"This school for me is one of the best," she said. "There is a lot of activity at places such as the ARC (Aztec Recreation Center). People are very friendly and polite. The teachers are very good."
Zabella Demirtshyan, originally from Armenia but now living in Moscow, attended the ALI to study in the Pre-MBA and Pre-Master's program.
"I like the teachers," she said. "They are open to communicate with students. And, of course I like the SDSU university campus. It's a very big and beautiful university. Every day I have a beautiful view – it brings me harmony."
Waleed ALKalash from Saudi Arabia studied three different programs: Intensive English for Communication, English for Academic Purposes, and Pre-MBA. This preparation provided him the language skills necessary to successfully complete an MBA degree in finance, with honors no less, from California State University, Long Beach.
"I'll always remember ALI and how many benefits I received from studying at this outstanding institute," he said. "The teachers were very helpful for other students and me. The materials made me stronger.
"I was not cautious or afraid to enter the university as a graduate student, which is quite different than undergraduate study. The teachers at ALI prepared me for writing, reading, listening, grammar, presentation skills, research, TOEFL (Test of English as a Foreign Language), GMAT (Graduate Management Admission Test), and business language," he added.
To find more information on SDSU's American Language Institute, please visit ali.sdsu.edu