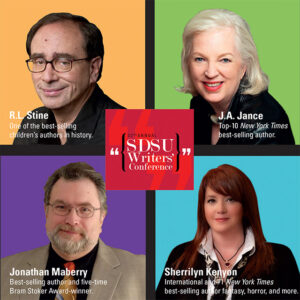 Will this be your year to break through to publication? Get one step closer to becoming a published writer by attending the 33rd annual SDSU Writers' Conference, Jan. 20-22, at the San Diego Marriott Mission Valley.
This year's award-winning, best-selling, and thrilling keynote speakers are:
R. L. Stine — One of the best-selling children's authors in history
J. A. Jance — Top 10 New York Times best-selling author
Jonathan Maberry — Best-selling author and five-time Bram Stoker Award-winner
Sherrilyn Kenyon — International and New York Times #1 best-selling author of fantasy, horror, and more
In addition to featuring a record number of workshops — more than 40, facilitated by publishing professionals, authors, and even police and military experts (in the unique Ask the Experts: FBI, CIA, Police, Military, and Weapons Q & A workshop) — the 2017 conference features a completely unique opening night, Friday, Jan. 20.
The traditional networking mixer, beginning at 5 pm, is now a sit-down dinner followed by an evening of party games designed to unleash the creative beasts within. Game Night in a Can — a totally unique live experience — will be led by game creators Jason Lautenschleger and Barry McLaughlin, who have tailored creative games from their Amazon best-seller, to authors about to pitch their work and attendees ready to break the ice like it's never been broken.
Game Night in a Can is literally 30 games in a can – any seven of which offer more than three million variations of game nights. McLaughlin and Lautenschleger regularly host a monthly game night at the Hollywood Improv.
Each year, more than 300 attendees from all over the world descend on the SDSU Writers' Conference to pursue their literary dreams and get direct feedback on their writing in 1:1 appointments with editors and agents. The three-day SDSU conference was among the first to pioneer these 1:1 appointments, giving writers unprecedented access to top-tier publishing professionals — many of whom interact with unpublished authors only through conferences.
The conference has a long history of launching literary careers, including those of Richard Lister, Monique Domovitch, and Shannon Messenger.
An attorney and lifelong football fan, Lister co-authored The View From the O-Line: Football According to NFL Offensive Linemen and an Uncommon Coach with former NFL coach Howard Mudd.
"The message I heard over and over at the conference was: 'Don't give up,'" said Lister. "I suppose it's easier to resist giving in when you are driven to write. So use that fuel to persevere."
Domovitch, author of The Chef Landry Mystery Series, first wrote Getting Skinny, a novel that was picked up by an agent at the conference, based solely on its first page.
"I can honestly say that if it hadn't been for that conference, chances are I would still be unpublished," she noted. "My advice to aspiring writers? Write one hell of a good first line."
Messenger, author of the young-adult series Keeper of the Lost Cities and Sky Fall, is an example of persistence.
"I firmly believe that the only difference between a published author and an aspiring writer is time and effort," she said. "Everyone has a different journey toward publication. Some of us take longer. But if you keep writing, keep going, and never give up on yourself or this dream, you will get there eventually, I promise."
Early-bird registration for the SDSU Writers' Conference is $449 through Jan. 3. Registration is $499 from Jan. 4-17 and $549 at the door, if space allows.
Advance reading appointments are $50 each and must be scheduled by Jan. 3, also the deadline for submitting the first 10 pages of a manuscript. Consultations (a face-to-face Q&A opportunity to discuss a project's marketability) are available for $50 each through Jan. 17. Attendees may purchase additional consultations at the conference, if they are still available.
The conference takes place 1-9 pm Friday, Jan. 20; 8:30 am-7 pm Saturday, Jan. 21; and 9 am-12 pm Sunday, Jan. 22. On-site registration begins at 11 am on Friday, with the first breakout session at 2:15 pm.
For complete information, visit neverstoplearning.net/writers, email sdsuwritersconference@sdsu.edu, or call (619) 594-0670.
This is a SDSU Research Foundation program.