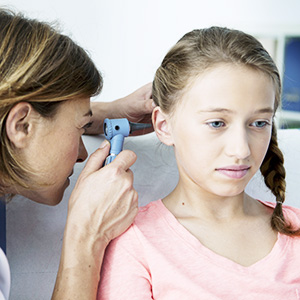 Economy of movement is the hallmark of Pilates, a method of exercise pioneered in the 1920s. So it's particularly fitting that Pilates instructor Marin Fisher is applying the same economy to pursuing her goal of a master's degree in speech-language pathology.
The field is extremely competitive for those who wish to help people with communication disorders, swallowing difficulties, voice pitch problems, and more. San Diego State University's Master of Arts in SLP program alone receives some 500 applications each admissions cycle, with room for only 30–40 students. Getting the necessary prerequisite courses is equally as competitive.
To meet the demand for this top-ranked graduate program — rated No. 1 in California and No. 24 in the nation by U.S. News and World Report — SDSU launched an online Speech-Language Pathology Essentials program this fall with two core courses: Hearing Science and Anatomy and Physiology of Speech.
The eight-week online courses are taught by lecturers from SDSU's Speech Language and Hearing Sciences department, and offered through the College of Health and Human Services, in conjunction with the College of Extended Studies.
Fisher — an SDSU alumna with a Bachelor of Science in Kinesiology — discovered the program through an online search for prerequisites for a master's in SLP. She just completed the first two courses, and answered some questions about her experience:
How did the online Speech-Language Pathology Essentials program meet your expectations?
I've taken two classes so far, and it's great that I'm able to keep my full-time job and support myself without having to take out loans while I take the courses. I don't feel like I'm going into debt before I even start my master's.
What were your key takeaways from Hearing Science and Anatomy and Physiology of Speech?
I learned so much from both of the courses that it's hard to pinpoint just a few things. Having a kinesiology background, I had already learned some things related to the courses, but I gained a deeper understanding of the ear and how we hear, as well as breathing, vocalizing, and the anatomy used to produce speech.
Can you speak to the caliber of the instructors?
The instructors were very knowledgeable on their subjects. They were also very responsive to emails and always got back to me in a timely manner.
How convenient was it to fit the courses into your schedule, and how many hours per week did it require?
The courses were very convenient! I worked about 3–5 hours a day and possibly a little more on the weekends, depending on assignments and tests due that week.
What do you think are the biggest strengths of the program?
I think the biggest strength of the program would be the convenience without sacrificing the amount and quality of learning. I feel like I gained as much knowledge in the eight weeks as I would have in a full semester, but I was able to fit it around my schedule!
Will you be taking the two new courses coming in spring 2017— Introduction of Language Science and Phonetics?
Yes! Absolutely!
The SDSU College of Extended Studies SLP Essentials online courses are open to individuals not currently enrolled in an SDSU degree program. Completing SLP Essentials courses does not guarantee entry into any SDSU degree program. Students may customize their curriculum and take only the courses they need, based on interest or graduate program prerequisites.