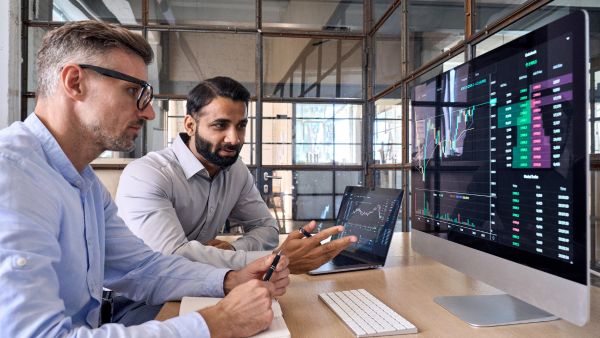 Earning your education in economics can help open doors to high-yielding career opportunities and the flexibility to find what path best suits you and your interests. The field of economics continuously has growing opportunities and provides a plethora of careers for you to choose from. 
The Bureau of Labor Statistics predicts a 6% increase in economics job postings over the next decade, and over 16,000 jobs were supplied in 2021 for qualified degree holders. Some notable employers for this career path include the federal and state governments, management services, scientific research services, finance, and insurance. 
Our Economics Degree-Completion Program 
With plenty of career paths to explore, the SDSU Global Campus Bachelor of Arts in Economics Online Degree Completion Program offers a flexible option so you can complete your education at home and prepare you to find a job in the field of your interest.
This program can be completed in as short as two years and is designed for working professionals looking to get their degree completely online. It covers a broad scope of topics, such as microeconomics, macroeconomics, and data analysis to help boost your communication and analytical skills. 
"An economics degree focuses on developing both critical thinking skills and a quantitatively analytical toolkit," said Hisham Foad, chair of SDSU's economic department. "These skills and tools have become increasingly valued in a wide variety of fields."
Upon graduation, you'll have attained the same degree as your on-campus counterparts and a well-rounded education that will prepare you for an array of career paths.
Top 10 Economic Jobs According to
Indeed
1. Personal Finance Advisor
A personal finance advisor helps manage an individual's finances and the national average salary is $65,526 per year. Advisors help clients with their short-term and long-term goals by providing advice on insurance, taxes, investments to make, retirement funds, and more. Some of the things they typically do are research investment opportunities, market their services, meet with potential clients, create education and retirement plans, monitor their clients' investments, and meet at least once a year with their clients to review and adjust their finances.
2. Supply Chain Analyst
Supply chain analysts help companies optimize their operations within their supply chain, and it pays a national average salary of  $67,947 per year. Analysts collect and analyze data to identify areas to improve efficiency, develop and execute projects, maintain relationships with vendors, measure performance, ensure quality operations, and recommend changes to the existing supply line. 
3. Business Reporter
Business reporters are journalists who focus on covering newsworthy events within the business industry, and it pays a national average salary of $69,488 per year. They are responsible for researching companies and current trends, conducting interviews, covering business-related legal proceedings, reporting breaking news, writing articles, and updating the general public about things that may affect the nation's financial state. 
4. Loan Officer
Loan officers authorize, recommend, and evaluate loan applications from businesses and individuals, and it pays a national average salary of  $75,911 per year. Typically, their responsibilities include looking for loan applicants, explaining different types of loans, reviewing loan agreements, guiding customers through the process, and approving loan applications. 
5. Management Consultant
Management consultants work with both domestic and global organizations to determine which areas of operation in an organization can be improved, and it pays a national average salary of $82,108 per year. They are responsible for researching complex business problems, providing their expertise on things including risk management and organizational design, delivering hands-on project management consulting, and more.
6. Statistician
Statisticians collect and analyze data for any industry that may benefit from their skills, and it pays a national average salary of $88,426 per year. Statisticians collect data through tactics such as surveys and polls and interpret it through software to create visualizations and answer questions that may aid in making business decisions. 
7. Product Manager
Product managers skillfully design and market a product to ensure its success from its ideation, and the job pays a national average salary of  $101,501 per year. Typical tasks project managers perform are making marketing assessments, planning a product roadmap, pricing and revenue modeling, communicating with stakeholders, and tracking its success.
8. Compensation Manager
Compensation managers create and allocate an organization's pay structure and benefit plans, paying a national average salary of $106,435 per year. They monitor market conditions and government regulations to determine fair compensation for employees and analyze data to determine how it compares to other organizations. Compensation managers can also design incentive pay plans and administer employee benefits programs. 
9. Actuary
Actuaries calculate financial risk and uncertainty, paying a national average salary of $113,430 per year. Most but not all actuaries work in the insurance industry where they compile data, estimate the probability and cost of an unexpected event, calculate necessary cash reserves, and make reports to explain their findings. 
10. Quantitative Analyst
Quantitative analysts use algorithms and other statistical and mathematical methods to solve complex financial problems, and it pays a national average salary of $141,375 per year. Through various methods, quantitative analysts can predict future market trends, develop financial strategies, and find investment opportunities. Their findings help organizations make informed investments, manage risk and optimize their returns. 
These ten jobs are just a few of the many opportunities the field provides you if you earn your education in economics. Whatever it may be that you look for in a job, you can discover the right career path for you in this extensive area of study.