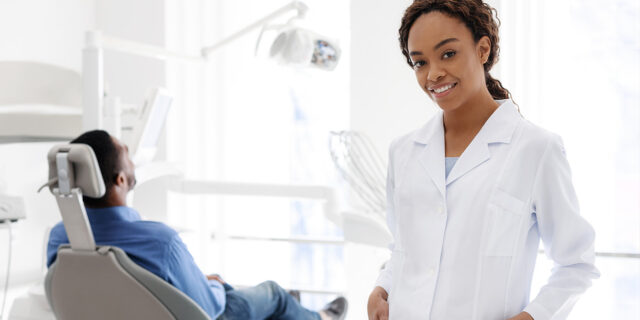 Did you know you can begin a rewarding career in healthcare without a college degree? As a clinical dental assistant, you are integral to the operation of a dental office because you perform various roles designed to help with both administrative and clinical processes and procedures. Plus, the dental assistant career appears on U.S. News & World Report lists of "Best Jobs without a College Degree," "Best Healthcare Support Jobs," and "100 Best Jobs." Here are a few more reasons why you should consider a career as a clinical dental assistant:
Clinical Dental Assistant Jobs Won't Require a Degree
Unlike a dental hygienist who must complete a 2-year or 4-year degree, you can begin working in this role after completing an online Clinical Dental Assistant training course in a year or less. Gain the clinical dental assistant skills and credentials that will help you kickstart your new career, including an optional externship that you can apply for toward the end of the program. This will provide you with valuable hands-on experience in a dental office and may even lead to employment. This level of professional training will go a long way in showing employers that you are serious about your career and willing to take the time to learn the important aspects of clinical dental assistant jobs.
There's Great Salary Potential for Clinical Dental Assistants
The U.S. Bureau of Labor Statistics (BLS) reports that the median salary for dental assistants is $41,180, but top earners in the profession earn more than $58,000. As a clinical dental assistant, you can choose to work in the private sector for a private practice or healthcare group or in the public sector for organizations such as the U.S. Department of Veterans Affairs or county public health systems. Public sector jobs do tend to pay slightly higher salaries, but experience and certification can help you gain a higher-than-average salary in any clinical dental assistant role.
Clinical Dental Assistant Jobs Are in Demand in California
According to the BLS, the job outlook for clinical dental assistants is favorable. In California, clinical dental assistant jobs are expected to grow nearly 12% over the next 10 years. According to Burning Glass Technologies, there have been over 27,000 clinical dental job listings over the last 12 months in San Diego County alone. Some of this growth in dental assistant jobs is due to ongoing research that continues to link good oral health with good overall health driving demand for increased preventative dental care.
Clinical Dental Assistants Report High Job Satisfaction
It is important to not only choose a rewarding and growing career but also one that you enjoy as much of your time each week will be spent doing your job. A majority of clinical dental assistants report high satisfaction in their role due to a great work-life balance, regular hours, a growing number of job opportunities, lower-than-average stress, and career growth potential. This, combined with the ability to help others daily, leads to a very fulfilling career.
When you choose to become a clinical dental assistant, it could be the beginning of your lifelong career in dental healthcare, or it could be a stepping stone on the path to becoming a dental hygienist or dental office manager.
Are you ready to learn more about becoming a clinical dental assistant? Explore our online Clinical Dental Assistant training course today.