Even if a job in patient care does not appeal to you, you can still have a career in healthcare (one of the fastest-growing industries in the United States) with an administrative position in medical billing and coding. These professionals play an important role—making sure that doctors, nurses, other healthcare workers, and medical facilities receive payment for the care they provide patients.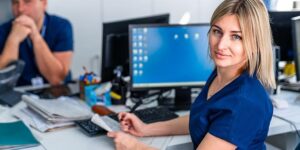 As a medical biller and coder, you will be a valuable part of the healthcare team. Best of all, this is a healthcare career you can begin without spending years in school earning high-level degrees. In most cases, you can complete a professional Medical Billing and Coding online course in just 12 months and begin working in your new career immediately afterward.
When you begin to research training programs, you are sure to come across certification options as well. While certification is not required to work as a medical billing and coding professional in California, we highly recommend it as a step you should take. Here are three reasons to earn medical billing and coding certification.
Certification shows employers that you have what it takes to excel on the job.
Earning a professional certification in medical billing and coding like the Certified Professional Coder (CPC) offered by the American Academy of Professional Coders (AAPC), the Certified Coding Associate (CCA) offered by the American Health Information Management Association (AHIMA), or the Certified Billing and Coding Specialist (CBCS) offered by the National Healthcareer Association (NHA) proves that you have the fundamental knowledge needed to excel in medical billing and coding jobs. Certification makes you a more desirable job candidate, and many employers prefer or even require applicants to have certification before they are considered for a position.
Certified medical billers and coders often make more money.
The U.S. Bureau of Labor Statistics (BLS) reports that the median medical billing and coding salary in the United States is $44,090. However, according to a survey conducted by the AAPC, certified individuals earn a lot more—with an average salary of $55,923 per year. In fact, earning more certifications will only increase your salary potential. Medical billers and coders who achieve two professional certifications earn an average salary of $64,890, and those with three certifications have an average salary of $70,608.
Certified medical billers and coders are in demand.
Our population is aging, which means that more medical services will be needed in the coming years. More medical services also mean more claims and an increased need for medical billers and coders who organize and manage patient data. Though medical billing and coding jobs are expected to increase 8% in the next nine years, which equates to an additional 29,000 jobs according to the BLS, the field remains competitive. Certified individuals will always be the first choice for employers.
SDSU Global Campus offers medical billing and coding certification prep 100% online. Earn an industry-recognized certification and start your career as a medical biller and coder in a year or less!
Learn more about our Online Medical Billing and Coding course today.