After nine years in the Marine Corps, Danny Molina was ready to jump into his next adventure — finding his next passion and getting his education.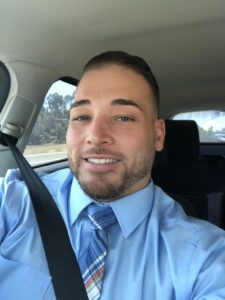 He's been able to do that through San Diego State University's Civil Engineering program. The supportive community, expert instructors, and flexible schedule are now available to more students through the SDSU Bachelor of Science in Civil Engineering Degree Completion program starting in fall 2021.
For the husband and father of three kids, the journey through Molina's education began while he was still in the Marine Corps. "Before I got out of the Marine Corps, they had me do an evaluation of what I find enjoyment in and find value in, and engineering fell in that realm of things they believed I would enjoy doing."
After leaving the Marine Corps, Molina began taking classes at Cuyamaca College, where he found a supportive veteran community and a "good engineering transfer program." He applied to SDSU in 2019.
Molina began taking classes in SDSU's Civil Engineering program and found a specific passion in the field. "This semester I was introduced to Geotechnical Engineering [a Civil Engineering specialization area], and I just fell in love with it instantly." Molina has had the opportunity to gain experience in the field through working at a Geotechnical Engineering firm in Carlsbad for the past two months.
A self-proclaimed "old-school learner," Molina was hesitant about the switch to a fully online format once the pandemic hit and the SDSU campus was shut down. He credited a lot of his success to the supportive educational systems around him and in-person resources, and he enjoyed the face-to-face interaction with his peers. 
He found more success in the switch than he was expecting. Molina said his instructor effectively explained complex concepts in a virtual format by providing links and YouTube videos to help students. 
"The way he has everything structured, it makes it flow really well. All of my concerns about the virtual format were put at ease as the semester went on. You do your own work at your own pace. I like it, I think this correlates better to the real world."
The program's flexibility will be key to making the program accessible to all students with all types of schedules and other commitments. With demand growing in the field, SDSU Global Campus offers the opportunity to learn from expert instructors and leading researchers in a way that works for you. 
Launch Your Civil Engineering Career with SDSU
For more information about the Bachelor of Science in Civil Engineering Degree Completion program, please visit our website.