COVID-19 forced a new landscape for hospitality, tourism and event management. The ability to adapt and innovate proved crucial for businesses and communities who rely on their consumers' freedom of travel and in-person experiences. Trends in the new year for these industries reflect these adaptations and point toward the light at the end of the tunnel after the pandemic.
Tourism and Travel Trends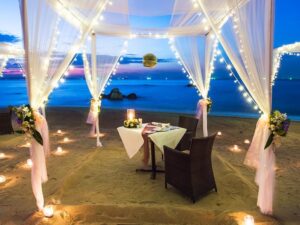 Travelers are turning to new ways of vacationing amid restrictions caused by the pandemic. This doesn't mean all aspects of the industry are struggling, however. A trend of travelling outside of the main destination cities is emerging, so smaller resorts with outdoor recreation options and non-traditional accommodations outside cities will flourish, according to an article by hospitalitynet.org. 
Technology will play a key role in the comeback of tourism and travel. Technology can provide up-to-date health and safety information and seamless payments and boarding through apps. 
"In a recent survey conducted by Censuswide, more than four in five travelers said technology would increase their confidence to travel in the next 12 months," an article from PhocusWire said, "When asked, the technology that travelers cited more than any other as giving them the confidence to travel was a mobile application that would provide on-trip notifications and alerts, for example, if there is a localized outbreak or changes in government guidance." 
"Revenge travel" has also emerged as a trend — it's the notion that travelers whose plans were ruined by the pandemic will cause a boom for travel sellers once restrictions are lifted. Solo travelers, and specifically women travelling on their own, are fueling the revenge travel trend, according to an article by Travel Weekly.
"According to a recent Solo Traveler survey, conducted in conjunction with OAT, nearly half of the 3,000 survey respondents reported an intention to travel even more in the post-COVID future than they had previously," said author Felicity Long.
Event Management Rebuilding with Global Trends
The wedding industry, which took a hit in 2020, is looking up. According to an article by Travel Weekly, back-logged demand will cause a boom in the industry for the latter part of 2021 and into 2022. The trend is to host smaller, more intimate ceremonies with the possibility of a larger-scale event later in the year or in following years.
An article by Successful Meetings outlines major trends for the event industry that cater to pandemic restrictions as well as global trends in the industry:
More groups are choosing limited service hotels

Immunity-boosting, plant-based items dominate menus

Sustainability is becoming a necessity

"According to the report, 92% of event professionals said it is important sustainability is integrated into the industry's recovery. While only 12% said their organizations have an advanced sustainability strategy, 49% said they were working toward one," said the authors of the article.

Technology is being repurposed for safety

Venues are getting hybrid-ready

Event professionals are upskilling for virtual events

Incentive trips are getting smaller and closer

CVBs (convention and visitor bureaus) are shifting focus to funding and partnerships 

DMCs (destination management companies) are rethinking their pricing models
There's no denying that major rebuilding is necessary in the tourism and event management industries. However, this rebuilding will incorporate trends that will position businesses to be stronger and more resilient.
SDSU Global Campus offers two master's degree programs in the areas of meeting and event management and hospitality and tourism management. These programs offer a community of experienced industry leaders as instructors and seasoned professionals looking to take the next step in their careers as fellow cohort members. Programs can be completed in 18 months, all online with the exception of two weeks on campus. Applications for fall 2021 are open, find out more information and enroll today.