When you think of San Diego, you probably think of sun, surf, and tacos. It's most likely a very different image in your head than when you think of our neighbor to the north, Los Angeles, which brings to mind the Hollywood sign, the Walk of Fame, and a little more hustle and bustle than laid-back San Diego.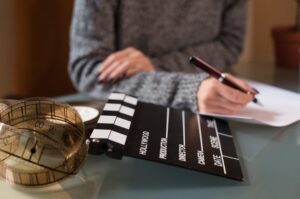 But there's a new film hotspot in town. ABC10 reported that MovieMaker Magazine recently listed San Diego as one of the best places for moviemakers to live and work this year. San Diego was the only California city to make the list (L.A. was listed as a Hall of Fame location and not included) and came in at 17 out of 25 cities.
The location of San Diego is unique. With year-long great weather and a binational community, moviemakers have been flocking to San Diego to enjoy and make use of the film-friendly environment and lifestyle. 
It's an encouraging nod for the city as film projects did not appear to slow during the pandemic. According to the city's film office, commercials for companies such as Uber, American Express, and Reebok all took place during the pandemic. All projects followed the county's COVID-19 guidelines. San Diego is also home to many well-known movies such as "Top Gun," "Bring it On," and "Anchorman."
Global Campus MFA in Screenwriting Program
For those interested in pursuing a career in film, SDSU Global Campus offers an education to propel you forward into the world of screenwriting. SDSU Global Campus is offering a first-of-its-kind Master's of Fine Arts in Screenwriting program, where you can expand your writing skills and voice on page by exploring feature, television, stage, and new media. 
Beginning this fall, students will study all aspects of screenwriting while creating and developing their work with industry and instructional experts. The program is a low residency, two-year online program created in collaboration with SDSU's School of Theater, Television, and Film.
Although the majority of the program can be completed virtually anywhere in the world, there is a six-week summer residency in San Diego. This summer in-person component of the program gives students the opportunity to work on set and develop their film and television production skills. 
This unique MFA in Screenwriting program offers the best of both worlds, bringing you the flexibility of an online program with the face-to-face instruction from industry experts in a film-friendly city. 
SDSU Global Campus is excited to welcome the first cohort this fall. Applications for the MFA in Screenwriting program are open now.