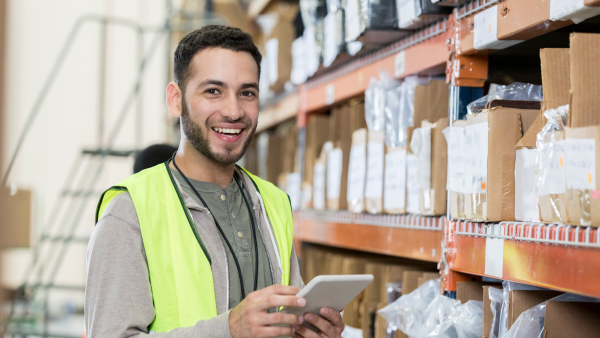 Amazon has emerged as a driving force in growing retail distribution and providing jobs for workers around the world. According to Forbes, it is the world's largest retailer and sixth-largest company on the planet. 
More than 1.3 million jobs are supplied by Amazon alone according to Insider. Amazon employees receive many benefits, including Amazon Career Choice, which covers the costs of Amazon employees who want to further their educations.
SDSU Global Campus is an official educational partner in Amazon's Career Choice program, offering Amazon employees to become students and earn their education. 
What is Amazon Career Choice? 
Amazon Career Choice is a benefit offered to qualified employees that allows Amazon workers to earn an education at a reputable university without the price tag. Through this benefit, Amazon covers 100% of the price of tuition, fees, and textbooks to the maximum of your eligibility.
"We recognize that when many people come to work at Amazon they come here for a long-term career. But others come here and see Amazon as a stepping stone," said Beth Galetti, Senior VP of Amazon Human Resources. "We invented Career Choice to be one of those very important steps in their personal career journey."

After just 90 days of employment, you are eligible if you are a full-time or part-time hourly L1-L4 Amazon employee with no limit to the number of years you can utilize the benefit as long as you're employed by Amazon.
The program's three tracks are learning foundational skills (English language proficiency for example), job training and skills development, and earning college credit towards a degree. Amazon's partnership with SDSU Global Campus specifically allows you to enroll in any of our bachelor's degree completion programs.
So whether you are looking to advance in your career inside or outside of Amazon, or you simply want to acquire new knowledge and skills, Career Choice makes it possible for you to do so. For more information visit Amazon's Career Choice Portal.
Why SDSU Global Campus?
SDSU Global Campus's degree completion programs allow you to build on your previous academic experience and use your college credits to earn your bachelor's degree. Our hybrid and online learning forums are designed to allow you to work at your own pace, on your own time, from wherever you please. 
And best of all, you are guaranteed to receive a high-quality education from the same instruction as our on-campus counterparts at San Diego State University.
To take advantage of this opportunity, you must apply to the Global Campus program of your choosing. Once accepted, you can request a voucher from the Amazon Career Choice Portal and submit it to enrollment.global@sdsu.edu.   
Bachelors Programs
Take a look at the programs SDSU Global Campus offers as part of our partnership with Amazon Career Choice.   
Business Administration
SDSU's Bachelor of Science in Business Administration online degree completion program is tailored to both full- and part-time students.
Criminal Justice
SDSU's Bachelor of Science in Criminal Justice online degree completion program is designed to encourage thoughtful exploration of the ways that criminal justice systems provide "justice," or fail to do so.
Economics
The B.A. in Economics degree completion program is a fully-online undergraduate program with a curriculum at the intersection of mathematics and sociology. You'll learn to use economics as a tool to analyze the costs and benefits of decisions, and how those decisions can affect all members of our society.
Public Health
Finish your Public Health Degree online and prepare to develop, implement, and assess public health programs. Learn how to solve healthcare-related problems and develop programs to help promote health equity and community wellness.
Civil Engineering
SDSU's B.S. in Civil Engineering degree completion program will help you build the foundational knowledge you need to successfully plan, execute, and analyze many types of engineering projects.
Communication
The B.A. in Applied Arts and Sciences in Communication online degree completion program explores how communication can promote civic engagement, allow for effective participation in today's global community, strengthen relationships, and prepare for a career in a variety of fields.
Child Development
The B.S. in Child Development degree completion program focuses on the biological, cognitive, and social development of young humans, and what it takes to facilitate healthy development in our communities.