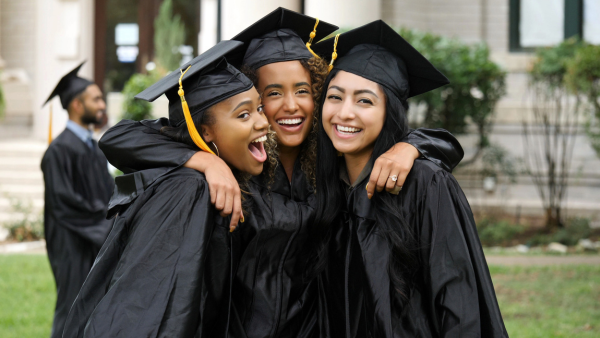 Back in 1999, the first chapter of the Tau Sigma National Honor Society was formed at Auburn University. Today, nearly a quarter century after it was created to provide transfer students with an organization that promotes and recognizes academic excellence, there are more than 250 Tau Sigma chapters across the nation. 
The SDSU Global Campus Tau Sigma chapter was formed in 2022 and has already inducted more than 25 members. Tamika Balderamos, an SDSU Global Campus Student Success Advisor who helped assemble the new chapter, wanted to create a space where transfer and other nontraditional college students could celebrate their hard work and dedication. 
"As advisors who work closely with our transfer students and are invested in elevating student success, we wanted to honor and promote our global campus students' academic achievements and excellence, as we understand the hard work and dedication they put into reaching this milestone," Balderamos said.
Why Join Tau Sigma
The new student organization has provided a space for transfer students to feel like they are a part of the university, Balderamos said. 
"Tau Sigma is a National Honor Society designed to support the transfer student population in recognizing and promoting their academic excellence and service to their community. As student success advisors at Global Campus, we were excited about instituting this chapter into our university and fostering a community for students to feel supported and recognized in their educational and leadership efforts," she said.
Being a member of the Tau Sigma Chapter at SDSU Global Campus not only helps students feel connected to the university. The organization also provides students a productive space to network, seek employment, volunteer, and leadership opportunities, apply for scholarships, and receive praise for their achievements. 
Students who belong to the Tau Sigma chapter can use their induction status to seek job opportunities, earn admission to postgraduate education programs, and network with other professionals. They can also apply for exclusive scholarships offered by the national honor society. These scholarships award members of Tau Sigma that have demonstrated outstanding academic achievements and service to the chapter, university, and community. 
Members of Tau Sigma will also receive recognition for their outstanding academic achievements, be invited to the honors recognition ceremony, and have their names printed in the commencement program. 
How to Join Tau Sigma
There are a few requirements you must adhere to if you want to join the Tau Sigma National Honor Society. First and foremost, you must be a transfer student with at least one full year's worth of credits from your previous institution. Secondly, you must be enrolled in a course of study that results in a bachelor's degree and take an average full load of credits. Lastly, you must complete an entire semester of classes at SDSU Global Campus before joining, as your eligibility will be contingent on your first semester grades. You must earn a GPA of at least 3.5 or be in the top 20% of incoming transfer students during the term in question. 
Invitations to join Tau Sigma are sent to qualified Global Campus students each fall. Join the organization, become a member of the Tau Sigma community, and make the most of the academic and professional benefits. For more information, click here or contact tbalderamos@sdsu.edu.