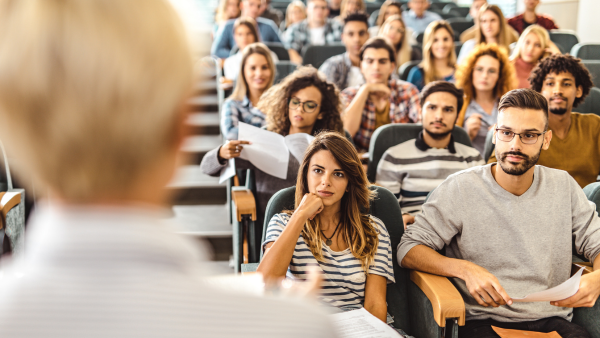 Contrary to popular belief, enrolling in collegiate-level courses is not just for 19 or 20-something-year-old college students. In reality, learning is a lifelong adventure that enriches people of all ages and backgrounds. 
At SDSU Global Campus, everyone is encouraged to be lifelong learners. Whether you are a full-time worker seeking to advance your career, an empty-nester searching for new challenges, or attending another university and looking to earn transferable credits, you are invited to sign up for in-person classes at SDSU through Open University. 
What is Open University?
Open University allows you to enroll in more than 3,000 undergraduate and graduate courses led by SDSU instructors. The offered classes range from business, finance, computer science, marketing, history, education, professional development, and environmental studies. Even though matriculated students take priority when registering for classes, as an Open University student you can enroll in courses on a space-available basis. If a course is full, you can join the waitlist or contact instructors directly to be granted admission.
Why Open University?
There are advantages to taking courses at an institution you don't attend. According to SDSU Global Campus staff member Miffy Yuan, enrolling in classes through Open University allows you to explore new interests, gain professional skills, and potentially find a new passion. 
"Taking SDSU courses through Open University is an opportunity for anyone to learn about current practices and techniques in specific fields, whether to advance in education or career, fulfill personal interests, or improve academic performance. Additionally, SDSU classes are comprised of students from diverse backgrounds and cultures, fostering an environment that encourages learning and building valuable soft skills to apply in personal and professional life," Yuan said.
Enrolling in courses and gaining unique knowledge is a great way to advance your career and take it to the next level. Additionally, completing these courses can help you earn transferable credits, raise your GPA for readmission into SDSU, and complete work towards a earning degree. 
In addition to earning SDSU official transcripts, Open University students can earn a program-specific certificate. By taking specific course sequences, you can become eligible to earn an Open University Certificate. These certificates include: 
How to Become an Open University Student
No application is necessary to apply to an Open University program. All you need to do is create an account with SDSU, review available courses, enroll in the course once registration opens, and show up to class with a positive attitude and ready to learn! 
For more information about registration deadlines or other details about Open University, call (619) 594-3376 or email openu.ces@sdsu.edu.