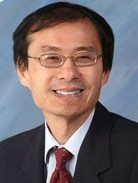 Wallace Wang, an instructor in our new Professional Certificate in the Business of Esports program, has authored many computer books, including ones on MS-DOS programs like WordPerfect and Turbo Pascal. He's also written books on Windows programs including "Microsoft Office for Dummies" and "Beginning Programming for Dummies," as well as "Steal This Computer Book" and other books about computer security. 
He has also written about Swift programming for Macintosh, the iPhone, and other Apple products in books such as "macOS Programming for Absolute Beginners," "Beginning iPhone Development with Swift 5," "Pro iPhone Development with Swift 5," and "Beginning ARKit for iPhone and iPad."
Wang earned his bachelor's degree in materials engineering from Michigan State University while also minoring in English at the same time. He later earned his master's degree in computer science from West Coast University and has been writing about computers and programming since 1983. He will be teaching ES 104, Introductory Game Design, and ES 105, Storytelling in Game Design.
Who is the ideal student for the Professional Certificate in the Business of Esports?
The ideal student is someone interested in getting involved in the video game industry or who enjoys playing video games and who would like to apply video game principles to other industries outside of the traditional video game industry. One type of ideal student is the engineering/programmer type. The other ideal student is the business-oriented student who wishes to focus far less on the technical details and more on the business side of the esports industry such as marketing, managing, and organizing esports events.
What is the job outlook for the Esports industry? 
Even though the esports industry is highly competitive, the industry is still growing and thus does not require the rigid requirements of traditional education such as a four-year college degree. This makes opportunities in the esports industry far more open and available than other types of industries. Basically, the video game industry is a $100 billion dollar a year industry while Hollywood ($11 billion) and music ($16 billion) trail far behind. Jobs and opportunities are competitive but always available to those who are willing to learn and spend their own time marketing themselves in this industry.
What sorts of careers can a certificate in the business of Esports lead to?
Most likely a certificate will lead to any type of job in the esports industry except for highly technical jobs such as data scientist, AI programmer, or graphic artist. Other than those highly technical jobs, an esports certificate would be enough to start a career in practically any other type of esports position.
Tell us about the two tracks students can pursue — Esports Management and Esports design — and what each track offers.
The esports management track focuses on the business side of esports from marketing, advertising, and management of players, teams, and events. The esports design track is geared more for people who want to create, test, and analyze video games t o get into the more technical aspect of the video game industry.