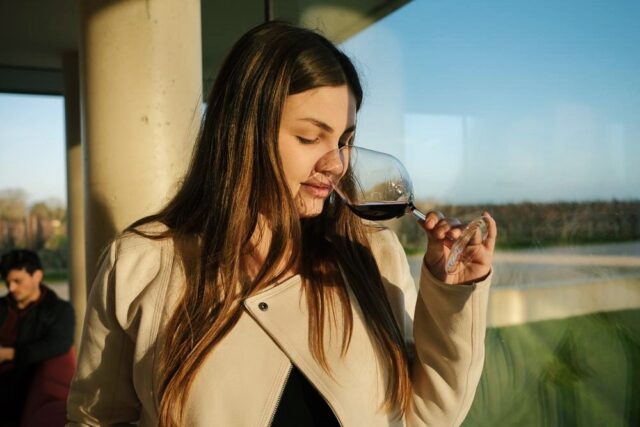 After Veronica Rodriguez graduated from SDSU with a Bachelor's Degree in International Business, she landed a job at an Italian wine consulting firm. She quickly realized that in order to perform her job better and be taken seriously in the industry, she would have to learn more about wine and the industry behind it. She tried reading books on wine and popular wine publications on her own time but was quickly overwhelmed with the many intricate aspects of the wine industry. She began searching for online courses as a way to supplement her readings and came across the Professional Certificate in the Business of Wine program at SDSU Global Campus. 
Now, Veronica is pursuing her master's degree in Wine Tourism Innovation in Bordeaux, France on a scholarship granted by the European Commission. We sat with her to discuss her experiences as a budding wine industry professional and a graduate of our Business of Wine program.
What made you want to pursue a career in the wine industry? 
My family is from Argentina, so wine was always at the dinner table when I was growing up. I was born and raised in Northern California, and I spent a lot of time studying French. There are three places that I have a strong connection to Argentina, California, and France. They all have something in common: wine! I became really interested in how wine is influenced by where it is from, much like a person. The more I learned about wine, the more I realized how wines from different places differ from one another and yet they all serve the same purpose: to bring people together – to share a glass, a meal, and a moment of conviviality. 
As time went on, I realized that studying wine is unlike studying anything else because it challenges you to use all five senses. I love the fact that there is an infinite number of things to learn about wine; there will always be a region you've never heard of or a new variety you haven't tried yet. The more I learn about wine, the more I want to continue learning. 
What were some of your favorite courses or experiences in the program?
Exploring Wine with Lisa Redwine was a highlight for me. In just eight weeks, my knowledge increased tenfold and gave me a great base to learn more in-depth about different regions. I am now living in Bordeaux and still think of Lisa every time someone asks me what the main grape varieties here are ("2 C's, 2 M's, and the little guy!"). I also loved the practical winemaking course at Wilson Creek Winery. I enjoy hands-on learning, and it was very memorable to learn directly from the winemaker. 
What are some of the most valuable things you've gained from the program?
Aside from the knowledge and confidence I gained from the program, the most important thing by far was the human connections. Some students from my class started a tasting group outside of the classroom and we still keep in touch almost two years later. It is really helpful to have friends with similar interests and also a great way to network within the industry.
You also worked at the San Diego Wine and Culinary Center. Can you tell us about your position there?
The job at the Wine and Culinary Center was one of those connections I made through the program. Certified Sommelier, Kenny Daniels, took me under his wing and taught me a lot about service. Here, I had a chance to put my wine knowledge to the test and share the information with others. We led chocolate and wine tastings, beer tastings, and other fun things. I learned a lot from this experience, especially how to verbalize information about wine in a way that is accessible and enjoyable for everyone.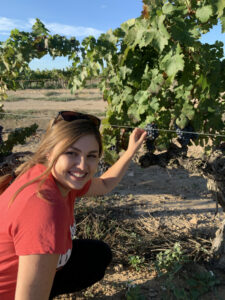 After graduating from the Business of Wine program, you went on to earn a full scholarship from the European Commission, and you're currently completing a Master's Program in Wine Tourism Innovation. Can you tell us about your current program?
My master's is an Erasmus Mundus program, which means that we do every semester in a different country. We did one semester in Tarragona, Spain; currently I am in Bordeaux, France; and the last semester is in Porto, Portugal before I go on to write a thesis.
The master's program is really broad because we touch on winemaking, marketing, and tourism. I have 26 classmates from 17 different countries. This is my favorite part of the program; learning from my peers and their backgrounds that are so different from my own. My other favorite part about the program is that it is very hands-on; we got to spend about two weeks helping at the university's experimental winery in Spain, picking grapes, crushing, pressing, etc. We also go on many field trips to visit wineries and see how they manage their wine tourism. It is very interesting to learn firsthand from these perspectives that differ so much from one another in each country. 
Studying in Bordeaux must give you some great opportunities to immerse yourself in French wines. Would you recommend travel to other aspiring wine professionals?
Definitely! I think travel is the best way to learn about a region and its terroir. It's often easy to forget what we read but it is much harder to forget what we experience. For example, it's one thing to read about Priorat's llicorella slate, but it is a completely different thing to visit Priorat, bend over and grab a piece of slate off the ground, feel its warmth and see its brittle nature by snapping it in half with your own hands. This is why I am studying wine tourism; when we give people an experience around their wine-drinking, we create an emotional effect that stays with them for a long time. 
Have you visited any other wine regions that have influenced your career as a wine professional? Any lesser-known regions or varieties that you'd recommend?
Catalonia has been really influential in my career. I visited cava producer Freixenet in 2016 which influenced me to apply for my first job in wine, so I was really happy to return to Catalonia for my semester in Tarragona. There are two wine regions here that I am really interested in. One of them is Terra Alta, which is recognized for its Garnaxta Blanca. I didn't even know white grenache existed until I visited this region. They often ferment in a "Brisat" style, meaning that they ferment on the skins, which leads to some really unique wines that go great with food. I'm also a huge sparkling wine lover, so I drank a lot of sparkling wine, particularly from the Corpinnat appellation. These are wineries that broke off from the Cava appellation to set their own, stricter regulations to create high quality, traditional-method sparkling wines. 
What are your goals after graduation?
This is a tough question because I am interested in so many different parts of the industry. Whatever I end up doing, I hope that it has an international aspect that allows me to travel. Perhaps I would like to work in exports to represent a winery in different countries, or maybe a food and wine travel planner. I am looking forward to exploring these options during the time I have left in my master's program. 
What advice do you have for someone who's currently where you were a few years ago, on the verge of pursuing a career in wine?
Network and drink a lot of wine!! Network because of the nature of the industry. Wine is a social thing, so naturally the industry is the same way. Plus, if you want to learn about wine, it is so much easier when you are able to discuss what you are tasting and compare with others.
And drink a lot of wine, because there is no other way to learn. You can read about different grape varieties until you are blue in the face, but there is no better way to know what it really tastes like than by simply trying it. I remember getting frustrated during one of the blind tastings in the sensory evaluation course because I kept getting the answers wrong, but the professor said to me "Trying to identify a wine you've never tried before is like trying to name a song you've never heard before." This really stuck with me and has pushed me to try new wines whenever I get the chance. So, don't get frustrated if you're having a hard time with tastings, just keep drinking more wine!