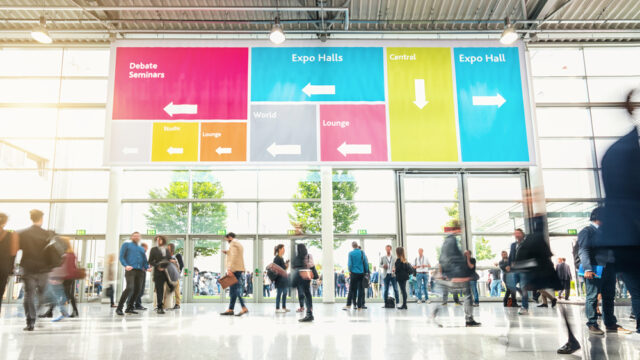 "Events are the indisputable heart of our global community. The experiences which events deliver in many ways define the quality of our personal and professional lives." – Tony Lorenz, Founder & CEO of HeadSail
Global Meetings Industry Day (GMID) is a day to celebrate and share the significant impact that meetings of all sizes have on people, businesses, and the economy. On Tuesday, April 14, 2020, celebrate the industry's enduring business value and its $2.53 trillion in global economic impact. But first, learn more about what makes event management a rewarding career, the essential skills of a successful event manager, and how you can get started in the event management industry.
What is Event Management?
Event management is a specialized profession focused on every aspect of events and event planning, from choosing an event location to ensuring and following up on guest satisfaction throughout the event. An event manager has the responsibility of overseeing the design, set-up, and execution of various events that bring people together. Events can be as small as group networking meetings with a handful of guests to large-scale conferences with thousands of attendees over several days. Examples of large-scale events may include conferences, conventions, concerts, trade shows, festivals, and ceremonies. Whatever the size of the event, managing an event always involves coordinating and interacting with other people. Your goal as an event manager is to ensure guests and attendees get the most from a given event, and you work closely with many people to achieve that goal.
Is Event Management the Same as Event Planning?
Yes and no. The critical difference lies in these two words: management and planning. In simple terms, event managers manage the event, and event planners plan the event. For the most part, these job titles are interchangeable. The minor differences that do exist between the roles primarily come down to how companies and event professionals define the positions for themselves.
Event Management Industry
The projected growth for meeting, convention, and event planners is expected to increase by 11% in the U.S. between 2016-2026, which is faster than average for all occupations. The events industry provides over 5.9 million jobs across many different roles and titles.
Event management is a diverse field of hospitality that includes planning weddings, meetings, red carpet premieres, sporting events, festivals, conferences, and fundraising galas.​ Here are a few event management positions that are popular within the industry:
Event Manager
Event Director
Account Executive
Sales Manager
Catering Manager
Wedding Planner
Meeting Planner
Conference Manager
Skills Needed for Event Management
Being able to prioritize and stay on task are important skills that lead to a successful event. Event management begins with the process of creating a clear vision for the event, planning out all of the little details, and then seeing it through to execution. Here are some key traits and skills needed to succeed in event management:
Organized
Ability to multi-task and handle stress
Excellent communication and listening skills
Creative and flexible
Ability to thrive in a fast-paced work environment
How to Get Started in Event Management?
Burning Glass Technologies, an analytics software company that provides real-time data on job growth, skills in demand, and labor market trends, states that a master's graduate in hospitality can earn a salary from $47,000 up to $106,000. There were over 15,000 relevant job postings in the last 12 months, with a projected growth of 4.13% over the next ten years.
There are several ways to get started in the event management world. Those interested can take event management training courses, earn a professional certificate, or earn a traditional degree. If you want to go further in the industry, you may consider a Master's in Meeting and Event Management. Whatever route you take, it is important to plan, make goals for yourself, and enjoy the incredible journey that event management can take you on.