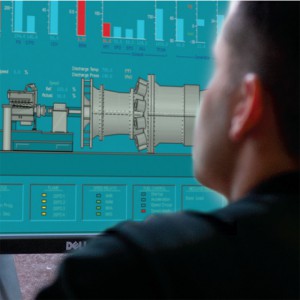 In 1950, a small group of entrepreneurs in New York City bought the patent rights to a European invention — a process for depositing chromium on the surface of carbon steel at elevated temperatures to protect turbine airfoils from corrosion. The process converts the outer layers of steel to chromium alloy or "chrom-alloy." Today, Chromalloy is a $1 billion company with locations in 11 countries, making it one of the world's largest providers of advanced coatings, and authorized repairs and parts for gas turbine engines.
Chromalloy's San Diego facility specializes in overhaul services on a wide variety of aircraft engine components and aeroderivative engines (designed to run on a range of alternate fuels) for the original equipment manufacturer, airlines around the world, and military platforms. In keeping with the company's dedication to excellence, employees have been taking part in the Lean Enterprise program at SDSU's College of Extended Studies since the program's start in 2000.
Chromalloy San Diego's Director of Operations Kevin Rhodey shares insights on the program's affect on operations.
What are your responsibilities as director of operations?
I am responsible for the overall operations of all production, engineering, and customer service-related functions. That means providing the leadership to ensure a work environment that fosters and encourages customer focus, technical excellence, process change and improvement, teamwork, health and safety, and environmental awareness. My role is also to lead continuous improvement initiatives to ensure the business unit embraces their goals and objectives.
How have you been able to successfully apply Lean principles in such an untraditional environment — i.e. you don't know what a jet engine repair entails until you take the engine apart?
As part of our growth, we constantly develop repair capabilities on new product. We use Lean principles right out of the gate in the development phase before any product or equipment goes out on the shop floor.
Can you give a specific example of a practice or procedure that was changed or streamlined by the application of Lean principles?
Our facility in San Diego transferred the manufacture of a product from another site in the company's global network, and improved the yield rate significantly. Throughout this transfer, using the Lean principles taught at SDSU, the team improved the yield rate to 95 percent.
What do you think are the program's biggest strengths?
One of the program's strengths is the classes held off campus at a facility that practices Lean. When students can see Lean in use, it really "connects the dots" to what they learn in the classroom. [Editor's note: Every semester, four classes take place off-site at three different companies. Past site visits have included Chromalloy San Diego, CareFusion, Taylor Guitars, Southwest Regional Maintenance Center @ 32nd Street Navy Base (SWRMC), and Clark Construction job sites – currently the new Engineering building at SDSU.]
Can you speak to the caliber of instructors?
They are extremely knowledgeable and have a lot of passion for what they teach. It's the passion that connects with the students.
Can you speak to Chromalloy's dedication to customer service, given that employees are constantly being educated in Lean enterprise?
One of Chromalloy's primary objectives is to delight our customers through perfect quality, delivery, and safety. In order to be successful in a market that changes often, we must constantly find ways to improve our services. Using Lean principles and the tools associated with it helps with the necessary improvements.
For more information on the Lean Enterprise Professional Certificate program at SDSU's College of Extended Studies, please visit neverstoplearning.net/lean