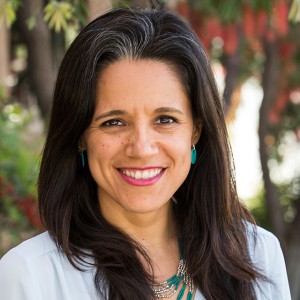 Yadira Galindo has been a communications and media relations manager the past 3 ½ years at UC San Diego Health. Prior to that, she spent more than a decade as the senior public relations representative for San Diego Zoo Global.
The past four years, Galindo has been an instructor at SDSU's College of Extended Studies, currently teaching the Marketing Communications class. From animal experiences to crisis communications to health care privacy laws, she has a wealth of real-life lessons and strategies to share.
How did you get into the industry?
After two years as a newspaper reporter, a job opportunity arose that ushered my career from journalism into the communications field. The transition to public relations was natural. My experience as journalist facilitated an understanding of the elements needed to create a powerful and telling story that is relatable to a company's audience. Although the new role focused on public relations, as part of a larger marketing department, this job helped me to understand the relationship between all of marketing communications.
What does your job entail?
As a communications and media relations manager, my role is to communicate strategic messages utilizing relationships built with media as well as modern tools such as social media. Many companies are competing for the attention of the same audiences. A communications manager works closely with other members of the marketing team to develop creative ways to disseminate messaging to a target audience.
What strategies will you cover in your Marketing Communications class?
In this course, students will be introduced to communications strategies to establish a consistent brand voice within the many elements of marketing with an emphasis on public relations.
Will you be sharing anecdotes from your career?
Having spent more than a decade working in the public relations office of San Diego Zoo Global, there will be examples of amazing animal experiences and crisis communications of mammoth proportions. By contrast, in my new role in health care communications, I can share the difficulties of communicating patient stories in light of privacy laws and the challenge of translating science into something that the public will find worthwhile.
Who do you think should take this class?
Marketing communications is a tool any business person should understand; from small business owners who do not have the resources to hire marketing professionals, to executives who would like a better understanding of the role of marketing in growing a business, to those tasked to help with communications as part of their job function. Having an understanding of marketing communications can help an individual or business develop or support a brand.
What kind of activities, homework, or projects will be a part of the class?
Students will be tasked with using creative writing to develop key messages that can be used and applied to different marketing communications tools including writing ad copy and a press release. Some of the work will be team-based during class time. Students will share their ideas so that we can learn together and guide the assignments forward.
What is the main takeaway for students?
Before you can draft the creative brief, implement the plan, or produce content, you will need to understand the basics of communication.
Do you see any new trends in communications?
Marketing communications was once a one-way conversation. Today, audiences expect a more organic experience and the opportunity to speak with the brand on a personal level. Communication is expected to be quick and personalized but feedback can be fierce. We'll discuss the pros and cons of today's communication trends and how to find a solution that works for you.