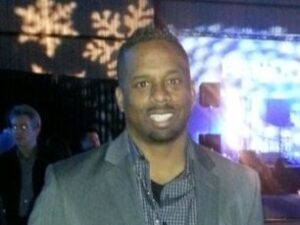 When Dakeba Jones decided he wanted to get back into the construction industry — after 15 years of working in local government — he knew he needed to get up to speed on industry changes. 
Jones, a San Diego State University undergraduate alum, needed a program with the right mix of flexibility, experienced instructors, and affordability. He researched different construction management programs and decided to return to his alma mater for SDSU Global Campus' Professional Certificate in Construction Project Management.
The remote aspect of SDSU Global Campus' construction management certificate program was key for Jones, who ran his private construction management firm in Los Angeles County during the day while completing the program at night. The certificate program is entirely online and can be completed in a minimum of five months.
The program comprises five core courses and one elective course. The courses dive into all areas of construction project management, including topics such as green buildings, equipment, and construction law.
"I needed to learn all aspects of managing a project," said Jones. "SDSU's program is modern and up-to-date and addresses today's industry issues and challenges."
Jones' work at his private firm, The Filmore Group, requires him to understand and manage a construction project from start to finish. In his role he manages each person involved in the project, from architects to occupants, for commercial, residential, and institutional clients. Jones must know everything from how to operate the construction equipment to its impact on the project financially. Jones highlights the construction contracts course as "critical" for managers in the industry, and he applies the knowledge he learned in the course on a daily basis.
The courses are taught by instructors with applicable industry experience. This was one of the top criterion for Jones when picking where to continue his education and get his certificate. 
"The great thing about the program was all the interaction with my peers through discussion boards and the experience of the professors. It was important to me to be taught by industry professionals who are in the business," said Jones.
Jones also noted that each year he noticed more diversity among students in the program. Jones completed the program in three years, where he benefited from collaborating with peers from all backgrounds.
The demand is increasing for construction project managers as the industry grows rapidly. Jones is thankful for his up-to-date industry knowledge from the certificate program.
"I feel so much more confident in my work because of the training I received," said Jones. "It's helping me grow my business exponentially."
Earn Your Construction Management Certificate
With fully online courses and expert instructors, earning your Construction Project Management Certificate from SDSU Global Campus will help you learn the principles of project management – from planning and scheduling, to the legal aspects of construction, contracts and insurance, and the principles of green construction.
Forge your career in construction with San Diego State University. Register for one of our online construction courses at neverstoplearning.net/construction.