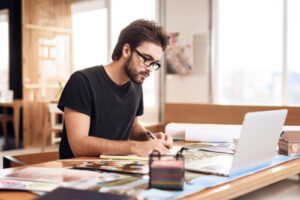 Many people refer to freelancing as a "side hustle." Not anymore.
According to a Sept. 15 article from CNBC, a new study by freelance work platform Upwork found that more than one-third of the American workforce is performing freelance work during the COVID-19 pandemic, contributing $1.2 trillion to the U.S. economy.
The pandemic is causing both employees and employers to reevaluate freelancing in light of a major economic recession. Everybody's taking another look at how business is conducted, from working remotely to how employees earn their incomes.
Freelancing is rapidly growing in popularity during the pandemic. Many who lost jobs because of the financial impact of the pandemic have made jobs for themselves through freelance work. 
Many college graduates are also using freelance work to supplement their income and practice their skills while waiting for an improved job market. In fact, half of the Gen Z workforce (age 18-22) have freelanced in the past year, according to the Upwork study. Among those, 36% started freelancing since the pandemic began. 
Traditionally, freelance work was just work on the side for most employees. Now, there are many freelancers who've turned their skills and business into a full-time job. According to the Upwork study, "of those who quit their full-time job in order to freelance, 75% say they earn the same or more in pay than when they had a traditional employer."
It's Not for Everyone
Freelance work is not for everybody, nor is it meant for every skill or type of business. Some workers still prefer a traditional employer-employee relationship and the relative stability and security that comes with it. 
But for those who possess a skill that's conducive to the freelance business model, there's much success to be had. A freelancer's clients can range from individuals to large corporations. Freelancing is especially prevalent for roles in writing, creative, web and software development, graphics design, and conversion rate optimization, according to a study conducted by Forbes this past summer. Many businesses are now using both in-house employees and freelancers to maximize productivity and profits.
"With a quick Internet search, organizations can get the ball rolling and access the exact professionals they need for the job. This is precisely why we're seeing a surge in what Stanford's computer science department has dubbed 'flash teams,'" according to a recent article from Beech Valley Solutions, an accounting freelance network, explains. "By bringing together in-house talent and outside freelance talent with a variety of complementary skills, organizations are getting more done with less fuss."
Freelancers Have Options
In terms of landing a freelance gig, there are many options for freelancers to market themselves and their services. 
According to Forbes, freelancers who market themselves independently have an easier time finding employment, compared to those who use a middle-man staffing firm: "Among hiring managers… 62% said they prefer to engage with independent professionals to get jobs done more quickly. Hiring managers also found that working directly with independent professionals reduced costs (53%), provided greater transparency in the hiring process (49%) and gave access to skills not available locally (49%)."
The rise in freelance work during the COVID-19 pandemic has led to the formation of organizations aimed at providing stability for freelancers. There are many platforms available that provide benefits such as health insurance and life insurance. There are also many online financial tools and booking platforms that help freelancers do their business with clients, such as Invoice Ninja and Visibook.
This disruption of the traditional employer-employee relationship has opened doors for some who had doors closed because of the pandemic. For others, freelancing might be the first experience some have in the workforce. 
Either way, these freelancing trends are pretty consistent with the theme of this year — flexibility. We can expect to see these trends have a permanent impact beyond 2020. 
Prepare for the Gig Economy with SDSU Global Campus
Our professional development certificate programs are designed to give working professionals an opportunity to grow their skills in their industry, or pick up a new skill in a new career path. With an online format, our certificate programs are a good fit for working professionals needing flexibility — a suitable format for freelancers. 
SDSU Global Campus offers many professional certificate programs to help today's workforce acquire the skills they need to thrive in the gig economy — including certificate programs in project management, grant writing, marketing, and event planning.
Boost your credibility with your clients. Start your professional certificate at SDSU Global Campus.