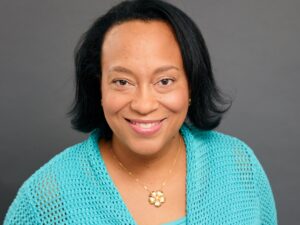 Before completing the SDSU Global Campus HR Management Certificate program, you can choose to take a stop in Sharonda Bishop's online classroom. Bishop, a graduate from San Diego High School and Cornell University, founded her own human resources consulting firm in 2018 after 25 years in corporate America. At her firm, Bishop helps her clients with corporate training programs, company retreats, HR project management, and more. By night, Bishop teaches the Performance Management online elective course in SDSU Global Campus' HR certificate program.
 Learn How to Manage Performance with an HR Expert
In Bishop's Performance Management course, students will learn proven strategies and methods to help evaluate employees and maximize productivity. The course covers a wide range of topics, including:
developing assessment tools

evaluating performance

diagnosing performance problems

coaching and counseling

improving employee communication

offering career guidance
"This course focuses on reframing what we thought about performance management," said Bishop. "We learn how to celebrate the milestone behaviors and achievements of employees, as well as what the precursors to negative behaviors are."
In an evolving field, HR managers' responsibilities are expanding to fit the needs of their employees and company. HR professionals are key players in making sure employees are individually and collectively able to achieve the goals and mission that define an organization. 
As a result, Bishop has noticed a change in the relationship between employees and HR professionals.
"I love that the HR connection to managers has deepened," said Bishop. "Whether HR managers are in a generalist role or a senior level position, that connection to being a coach, a counselor, or an adviser is occurring in all levels of HR."
Looking Towards the Future of Human Resources
Bishop's advice to young HR professionals? Be a lifelong learner. 
"You always want to expand on what you think you know. You don't want to have the same thoughts and the same toolbox as five years ago. Be creative and innovative," said Bishop.
Bishop is also an instructor at Cal Poly Pomona and UC Riverside Extension. Bishop is married and has a 13-year-old stepson and 22-year-old daughter who will graduate from Cal Poly Pomona in June 2021. She's continuing in her own lifelong-learning journey as she pursues her Doctor of Business Administration degree at DePaul University. 
Expand Your HR Toolbox with SDSU's HR Certificate Program
Whether you're new to human resources or you're a seasoned HR guru looking to optimize your skills, the SDSU Global Campus Professional Certificate in Human Resource Management program will help you expand your HR toolbox in as little as 1 year.
Visit neverstoplearning.net/HR to start your journey.